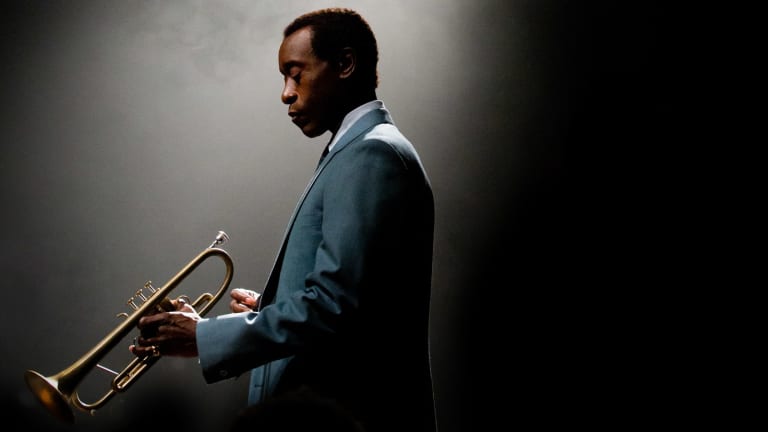 10 Impossibly Cool Musician Biopics Every Man Needs to See
Date night specials.
The musician biopic genre has been a staple of serious filmmaking ever since Elvis first became a superstar. Lately, however, it's grown from a trickle of movies to a more intense output, with a some of the best ever made appearing quite recently.
Take note–these are not documentaries but rather filmic tours de force wherein a very talented actor (or actors) assumes not only the role of a famous musician but seems to actually become him (or her). And it all takes place in a seriously stylish cinematic setting that you don't need to be a fan to appreciate.
Here are the ones you need to add to your queue this instant:
Don Cheadle stars as the genius of jazz in this 2015 masterpiece which stands as one of the most brilliant pieces of musical cinema ever. Cheadle co-wrote the pic and his commitment truly shows through.
Equally inspired casting here in the form of Ethan Hawke as the incomparable Chet Baker. He's got both the cheekbones and the chops to portray the troubled troubadour.
It took six different actors, including Heath Ledger and Cate Blanchett, to portray The Bard in all of his many phases. Nominated for an Oscar which it should have won by all rights.
Our oldest selection features the great Gary Oldman, directed by Alex Cox, a brilliant punk rock auteur whose legacy–just like Sid's–should not be forgotten. Never mind the bollocks.
It must have been tempting to install some Hollywood heartthrob in the role of the legendary singer/songwriter, but British newbie Aaron Taylor-Johnson was an inspired choice. And voice.
Of course, when it comes to brilliant casting, it's impossible to top Joaquin Phoenix as the Man in Black. He's almost too intense, but there's no way anyone else could ever take on the role in retrospect.
Never heard of Ian Curtis? The Joy Division frontman may not be as famous as the other names on this list, but Anton Corbijn's incredibly gorgeous epic, which was shot in color but then printed in black and white, is a must-see.
Jamie Foxx got it right on as Ray Charles and set the bar for big screen portrayals of larger-than-life entertainers. It's no wonder the flick took home two Oscars including his Best Actor win.
Making a biopic with this many stars was no easy task, nor was giving a musical moment that still seems so recent the silver screen treatment. Critics agree however that controversies aside this is gripping cinema.
Zoe Soldana makes the tough, talented jazz legend come to life in the most recent entry to our musical biopic pantheon. Settle in to watch and see why the likes of Kanye West sample her songs for more than just a catchy tune.