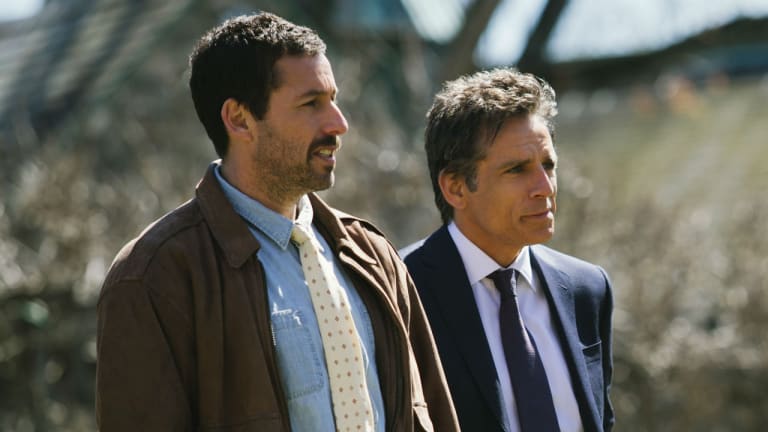 Adam Sandler Might Make One More Good Movie After All
Adam Sandler and Ben Stiller team up.
After a string of misses that include Blended, The Cobbler, Pixels, The Ridiculous 6, The Do-Over, and Sandy Wexler, many fans have given up on Adam Sandler. However, thanks to Noah Baumbach, Sandler might get another chance.
Baumbach is known for cult dramedies such as Greenberg, The Squid and the Whale, and a writer position on Fantastic Mr. Fox. His new film, The Meyerowitz Stories (New and Selected), allows for Baumbach to work as both the writer and director.
According to IMDB, "An estranged family gathers together in New York for an event celebrating the artistic work of their father." The film stars Adam Sandler, Dustin Hoffman, Emma Thompson and Ben Stiller.
As a writer, Baumbach's gift is to study themes of family angst, but often in a comedic way. For this film, he knew he wanted to pair Ben Stiller and Adam Sandler as brothers. He even met with the duo for lunch before he started writing the roles.
"I wrote this with Ben and Adam in mind, but the father I was forming, inventing, was almost like an imaginary guy," said Baumbach in an interview with Total Film. "He was inspired by people I know and different aspects of different people. As soon as I finished, I thought, 'I gotta get Dustin Hoffman.'"
Stiller and Sandler had both dealt with their fathers in the hospital, so the characters started to shape around real-life events. "We talked about our parents getting older, and losing our parents," confirmed Ben Stiller. "And about having kids."
Like Aaron Sorkin or Quentin Taratino, Baumbach writes with a kind of music in his dialogue. "There's a rhythm in the dialogue and it almost doesn't work if they don't do it exactly," said the writer-director in an unapologetic manner.
The film will hit Netflix around October 13 and in certain cinemas around the country.