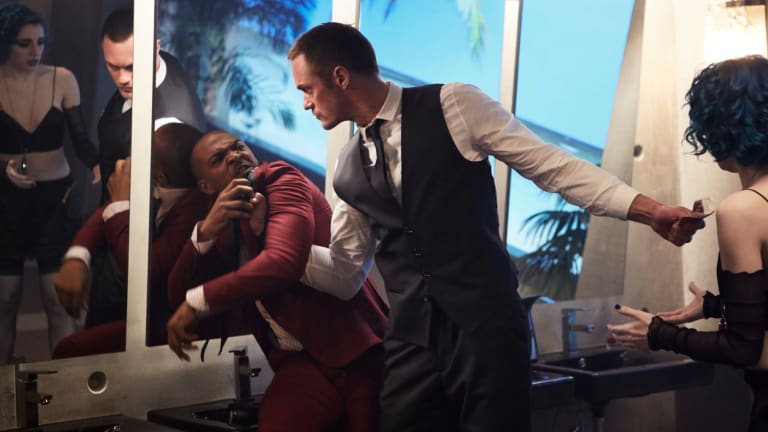 3 Things You Didn't Notice During Netflix's 'Mute'
The Netflix flick Mute takes some big risks. It's hard to make a movie about a bartender who can't speak, a brawler named Cactus Bill, and a pedophile that's trying desperately to be sympathetic, but the movie is still worth a watch. I mean, it's on Netflix. But if that's not enough, here are three things to look for while watching the movie on the streaming platform.
Duncan Jones Is The Son Of David Bowie
First of all, the movie comes from Duncan Jones, who most people do not know is the son of the iconic musician, David Bowie. Beyond the bloodline, the writer-director also shot the movie in 2052 Berlin, which is also a city his dad made famous in the 1970s. The director told Vanity Fair, "Even as a very young kid, I could sense that we were in a place that felt apart from anywhere else. It was an island of Western culture and civilization in a sea of the Soviet Union at the time, and it felt like an island—like you were completely cut off from the rest of the world."
Dominic Monaghan Portrays A Geisha
Paul Rudd and Alexander Skarsgård lead the film, but there's an odd little cameo from Dominic Monaghan. Most people will recognize the actor from Lost or The Lords of the Rings trilogy, but he's someone else altogether in Mute. Part of this is because the film deals with unusual sexual robots in the near future.
Monaghan portrays a man named Oswald. He opens the door dressed in a Geisha outfit, with face paint and a whip in his hand. Leo (Skarsgård) forces his way into the room looking for evidence. In the back, there are also some unusual sex robots that turn back on before Leo can exit. This is the director's favorite scene.
Oscar Winner Sam Rockwell Makes A Dozen Cameos
Duncan Jones isn't quite a household name yet, but Netflix likely gave him a chance to make Mute because of his small but killer resume. Jones has also directed Warcraft: The Beginning, Source Code, and Moon. During Moon, there is a character named Sam Bell, played by Sam Rockwell, who also makes a cameo (or twelve) in the film.
Leo is watching television and notices a breaking news story. The story highlights astronaut (Rockwell) who finds out that he's a clone. The scene is a quick little Easter egg for fans of the movie and Jones hopes to touch on it again later. This way, he can tie all of his films into the same universe like Quentin Tarantino does.
We're also pumped Sam Rockwell just got his first Oscar. If you don't know enough about this legend, read more here.