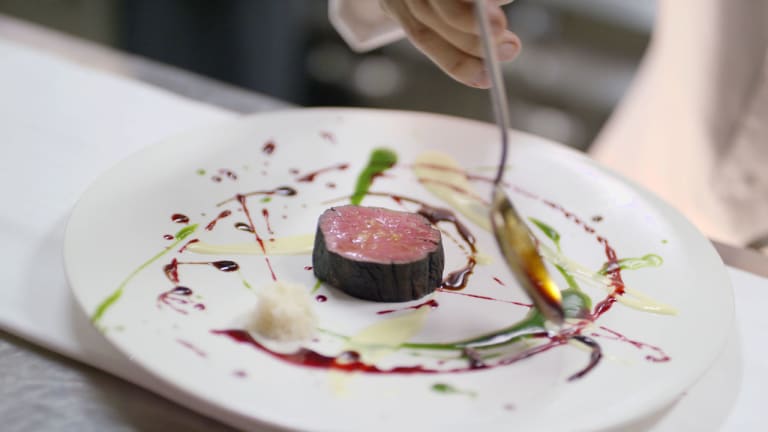 Loved 'Chef's Table' On Netflix? We Chatted With The Brilliant Composer Who Made It Magical
And yes, we ask him about the Francis Mallmann episode.
Netflix's original series Chef's Table, best described as an "anti-cooking show," was a big favorite of ours for its windows into the lives of the world's most extraordinary culinary artists. Often, it turned out that the chefs' personalities were just as deserving of the spotlight just as much as their food, and none more so than Francis Mallmann. Argentinian-born, French-trained, Mallmann's technique involves dramatic dining destinations and theatrical open-flame preparation. It's a must-watch.
We recently had a chance to ask Emmy-nominated composer Duncan Thum a few questions about his work on the episode and a rare glimpse into what goes on behind the scenes of a successful Netflix show.
1.) Can you please give us a little background on how you were initially connected with the producers?
The series creator David Gelb, director Clay Jeter and I go back to our undergraduate days at USC. When Clay brought me in to score his profile on Francis Mallmann last fall, it was our first time working together. Though we've been friends for a long time, our artistic journey is a fresh one.
2.) At what point in the production process do you receive material to work with? And then how much time are you given to work on it?
By the time I came on board a story arc was fleshed out and temp music in place. It was really helpful that Clay knew what kind of story he wanted to tell, because there were precious four weeks to score, including a few live sessions). I knew the music had to be cinematic. It had to evoke Francis Mallmann's sensuality in order to belong to the radiant world the filmmaking team had captured.
3.) What is your creative process like?
The question for me was how to get the music to articulate what the images and Francis's words could not. There is a sophisticated simplicity in his cooking, which I chose to convey with strings and piano, but also a youthful rebelliousness to Francis. A sort of wanderlust. Late one night I chanced playing a guitar solo over a scene that we were struggling with musically. It was one of those classic aha! moments. The electric guitar is a perfect way to express the wildness that Francis cultivates in his rustic kitchen and lifestyle. From there a guitar centric score fell into place.
4.) You also work with photography. When it comes to both image composition and music composition, are there similarities?
So many! My dad is a wonderful photographer as well as a musician himself. He taught my older sisters and me how to use a SLR at an early age. I used to listen to music while developing in the dark room. I like to think both photography and music do the same thing using different senses. They freeze time, frame it, allow you to sink into a moment, contextualize your experience.
5.) Francis discusses travel at a point in the episode, personally likening it to meditation. How do you value travel?
Travel is one of the best things a human can do! It's an education. You are forced to listen to your senses, do things that are uncomfortable, think on your feet, get lost, adapt, feel small and the best part is that it's super fun. I really get behind Francis on this one, we should all make time to leave our comfortable chairs and go out.
6.) Have you been to Patagonia? What is your favorite destination?
I've not, but let me assure you it's now high on the list! I'd highly recommend Koyasan in Japan. It's high in the mountains south of Kyoto. There is a mausoleum dedicated to the monk Kobo Daishi called Okunoin' with a mile long cemetery that winds through a lush wood. I was there while it was foggy, it was pure magic.
7.) What are you reading, listening to and watching at the moment?
This moment I'm listening to Nils Frahm's score for the film Victoria, a track called "Them." Maybe that's why I thought of Koyasan? A lot of Townes Van Zandt. Le Tombeau de Couperin, Vaughan Williams. Kendrick Lamar. Going to try and see Altman's Nashville tomorrow, it's playing at my favorite theater here in LA. Reading Haroun And The Sea of Stories by Salman Rushdie.
8.) Do you ever notice external stimuli (like the above answers) manifest themselves in your compositional work?
Surely! What better way to get inspired than to emulate your favorite artists? I find it always comes out a bit mangled anyway, which is the interesting part. Making mistakes is how you find your own voice.
9.) How long does a project stay with you after you complete it?
I love this question. I was recently having a conversation about this with my dear friend and long time collaborator Daniela Sherer (please check out her films- she's fantastic!). My feeling is that when you finish something, it sort of leaves you and grows up with its audience (no matter how small or big). You remain intimate, but also aware of its autonomy. I think letting go is a great way of keeping flow in your creative life. I try to stay respectful of the fact everyone is going to have their own experience with something, no matter my involvement. It helps me to be able to observe those reactions as impartially as possible.
10.) Francis doles out aspirational life advice throughout the episode. What are your inspirations as a composer? What/ who is your dream collaboration?
As I mentioned above, I really dig Francis' way of confronting the unknown with passion, even joy. Keep your antenna tuned wide, stay open to possibilities, learn to listen, don't be precious, be free to edit freely. Make stuff all the time. Have fun! It's super easy to forget that last part. My dream collabs are with the Coen Bros, Hayao Miyazaki or perhaps Shigeru Miramoto. One day!