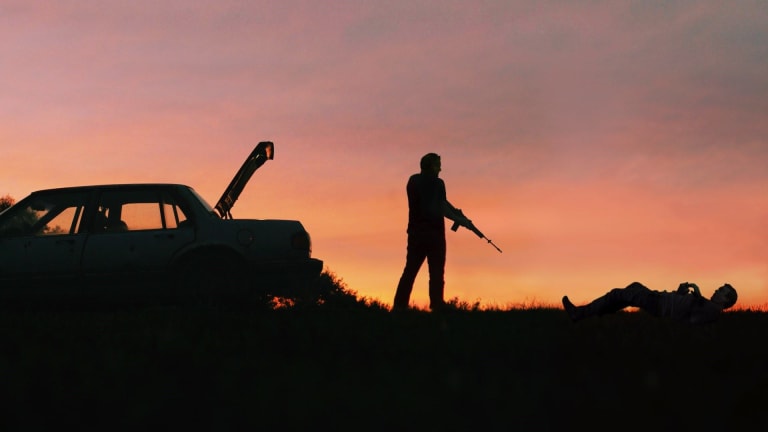 10 Great Netflix Movies You Probably Haven't Seen Yet
Click play.
Avoid the 15 minutes it takes to settle on your next Netflix movie and go straight to one of these good ones instead.
Destin Daniel Cretton expands his 2008 short of the same name into a feature film depicting the struggles of a compassionate twentysomething contending with some unexpected life developments while working as a supervisor at a home for at-risk teens. Grace (Brie Larson) has dedicated her life to helping kids who have slipped through the cracks of the system. Committed to her job and in love with kindhearted co-worker Mason (John Gallagher Jr.), she's still struggling to make sense of her own troubled past when she learns that her life is about to change forever. Meanwhile, into the facility walks a young girl who's been constantly shifted between group homes due to dangerous behavior. Almost immediately, Grace forges a powerful connection with her new charge. Now if Grace can just open up to Mason the way she encourages her kids to open up to her, she may find a way to make peace with the future while still providing support to the kids who depend on her the most.
Filmmaker Ryan Coogler makes his feature directorial debut with this drama centered on the tragic shooting of Oscar Grant (Michael B. Jordan), a vibrant 22-year-old Bay Area father who was senselessly gunned down by BART officers on New Year's Day in 2009, and whose murder sent shockwaves through the nation after being captured on camera by his fellow passengers.
A child's lie threatens to destroy the life of a divorced day-care worker attempting to reconnect with his teenage son in this emotionally charged drama from director Thomas Vinterberg. In the wake of a fractured marriage, 40-year-old Lucas (Mads Mikkelsen) gets a new girlfriend and a new job in a day-care center while fighting to win custody of his teenage son. Lucas is a respected figure in his close-knit community, and the kids at the center where he works all look up to him. When Lucas repeatedly finds young Klara (Annika Wedderkopp) roaming the streets alone as her parents engage in angry shouting matches, he becomes something of a protector to the frightened young girl, often walking her home once the arguments have died down. When Klara attempts to repay Lucas' kindness with a kiss on the lips, the shocked teacher quickly corrects her by telling her that such a display of affection is not appropriate. Upset over being rebuffed by the man she so admires, Klara responds by telling the inexperienced manager of the day-care center that she saw Lucas engaged in inappropriate activity. Before long the rumor has caught fire, and as Christmas approaches mob mentality prevails. Everyone close to Lucas, including his two best friends and his son, quickly become pariahs in the community. Meanwhile, the desperate Lucas wages a losing battle to reclaim his dignity in a town that would sooner see an innocent man crucified than admit their mistake.
After suffering a brutal crime, Dwight (Macon Blair) drops out of society and ends up homeless. When the killer who ruined his life is released from jail, he plots revenge, but his mission of vengeance is complicated by the fact that his target has a family.
The son of a same-sex couple seeks out the sperm donor who made his birth possible in this comedy from writer/director Lisa Cholodenko. The committed parents of two teenage children, Nic (Annette Bening) and Jules (Julianne Moore), are about to send their daughter, Joni (Mia Wasikowska), off to college when her younger brother, Laser (Josh Hutcherson), asks for her help in tracking down his biological father. Reluctantly inquiring with the sperm bank, Joni leaves her number so the office can pass it along to Laser's father. Enthusiastic at the thought of meeting his long lost offspring, Paul (Mark Ruffalo) musters the courage to reach out, and the family tree grows a new branch.
Writer/director Joss Whedon gives William Shakespeare's beloved battle-of-the-sexes comedy a contemporary makeover in this feature adaptation starring Amy Acker and Alexis Denisof. In the wake of an eventful trip abroad, Claudio (Fran Kranz) and Benedick (Denisof) arrive safely back in their hometown of Messina, where Claudio wastes no time declaring his love for Hero (Jillian Morgese). Alas, when clever Benedick learns that his friend has poured his heart out to the daughter of powerful governor Leonato (Clark Gregg), he chides his old friend relentlessly over the syrupy assertion while engaging Leonato's outspoken niece Beatrice (Acker) in a series of spirited debates. Meanwhile, somewhere amidst all of the pointed insults and playful barbs, something that strangely resembles true love seems to blossom between Benedick and Beatrice.
Bong Joon-ho makes his English-language debut with this dystopian sci-fi thriller set in the aftermath of a failed global-warming experiment that ushered in the dawn of a new Ice Age. As a perpetual-motion engine keeps a super-powered locomotive speeding around the planet, the impoverished lower classes occupy the rear cars while the privileged upper classes are pampered in the front. The fragile balance of power between the two begins to shift, however, when an enigmatic message sparks a revolt that cannot be quelled.
George Falconer (Colin Firth) feels lost. Not only is he still grieving the death of his longtime companion, Jim (Matthew Goode), but he's also a Brit teaching English at a California college. He's so distraught with heartbreak that he's decided to kill himself, and proceeds to get all his affairs in order while carrying on with what otherwise would be a normal day. He gives an unusually forceful lecture to his class, revealing enough that a perceptive student, Kenny (Nicholas Hoult), senses something is wrong with the professor; collects his important financial papers from his bank; buys bullets for a handgun he owns; and makes a visit to his best friend (Julianne Moore). But throughout these methodical preparations, George keeps running into people – a colleague's daughter, a attractive gay hustler, and the sympathetic Kenny – who offer him glimpses of why he should stay alive.
Chuck Barris is best known to most Americans as the guy who used to host The Gong Show. He was also the creator and producer of The Dating Game, The Newlywed Game, and a handful of other successful game shows in the 1960s and 1970s. But was he also a hired killer working with the CIA? That's the take-it-or-leave-it premise of Confessions of a Dangerous Mind, based on the memoir of the same name by Chuck Barris. Barris (Sam Rockwell) grows up dreaming of success in show biz and winning the hearts of beautiful women, but early on, he meets with plenty of resistance from both women and the television industry, despite writing the hit tune "Palisades Park" and scoring a job with Dick Clark on American Bandstand. The 1960s proves more fortunate for Barris; he meets the love of his life, Penny (Drew Barrymore), and sells ABC on the idea of The Dating Game. However, after the show has made him wealthy and successful, Barris is approached by the mysterious Jim Byrd (George Clooney), a CIA agent who wants to recruit Barris as a covert operative. Barris finds the notion of playing spy games intriguing and agrees, but soon discovers what Byrd and his partners really want is for Barris to assassinate uncooperative figures around the world. Soon, Barris finds that his life has been all but taken over by Byrd and another CIA agent, the mysterious and sexy Patricia (Julia Roberts). As he hops the globe, killing people in the name of American security (using his status as a Dating Game chaperone as a cover), Barris learns that the KGB has discovered his not-so-little secret and that his own life is in great danger.
Jack O'Connell headlines this uncompromising prison drama focusing on a young, compulsively violent convict who makes enemies of both the guards and his fellow inmates while locked up in the same penitentiary as his dangerous father. Eric (O'Connell) is a volatile 19-year-old whose life is changed forever when he's sentenced to serve time in an adut prison. Beset by treachery and surrounded by corruption, Eric clings to the hope of a better life while questioning whether his unpredictable father plans to protect him, or throw him to the wolves. Meanwhile, Eric participates in an anger-management group run by a compassionate psychotherapist (Rupert Friend) who may hold the key to unlocking the source of the young prisoner's unbridled rage.