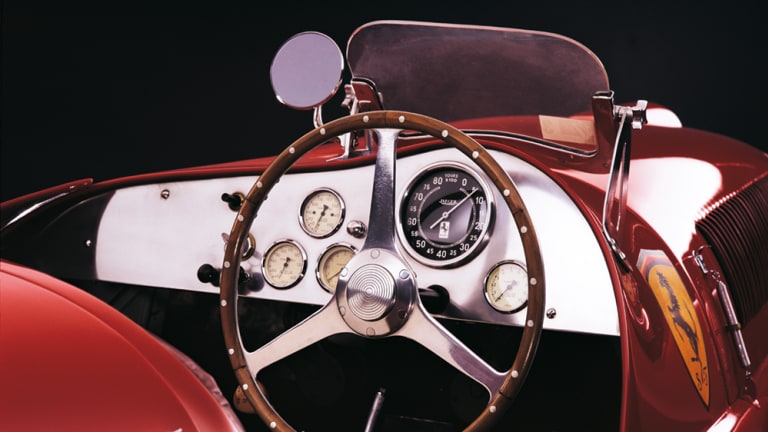 This Is the Ultimate Large Format Ferrari Design Book
German luxury publisher teNeues has just come out with the ultimate large format book on Ferrari design, and no motoring-minded gentleman's coffee table is complete without it. The Ferrari Book: Passion for Design, photographed by Michel Zumbrunn, written by Jürgen Lewandowski, and edited by Michael Köckritz, is now available to order on Amazon but is likely to sell out quickly, so look lively.
The weighty 400-pager revels in the Ferrari marque's "beauty, sex appeal, class and power" in hundreds of gorgeous photographs. Emphasizing the brilliant design that has always given Ferrari its visceral appeal, the book includes "many exciting stories and anecdotes surrounding the legendary brand and its automotive icons."
70 years of incredibly beautiful cars, from the 166 Spyder Corsa of 1948 to the 750 Monza, 250 GTO, Dino, Enzo and the latest LaFerrari are lovingly and lavishly portrayed along with captivating text about each model and its origins.
The history of the company founded by Enzo Ferrari and its glorious racing successes are detailed as well. "There is no class, no competition, that Ferrari did not set its sights on and win more or less immediately" during the course of its 70 years, the author's note, and this racing prowess has always influenced Ferrari's stunning road cars.
Ferrari has always been "synonymous with aesthetics, elegance, and trend-setting design," more so than any other marque, the authors note, and its true value can only be "measured in the currency of impassioned devotion."
The book costs over $100 but is well worth it in our opinion. Just note that you're probably going to spend several hours drooling over it so it's probably best to just cancel all your appointments in advance.