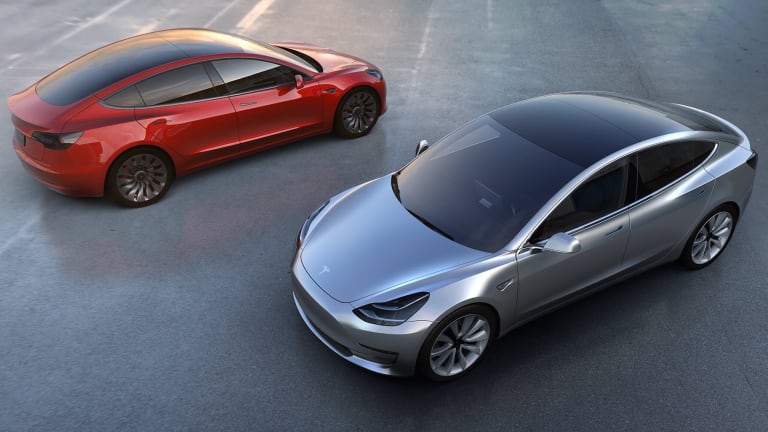 17 Things You Need To Know About The Tesla Model 3
The entry-level all-electric ride has arrived.
Last night, Elon Musk and the Tesla crew dropped their new entry-level ride to the public at large, the Tesla Model 3. Meant to compete with the likes of the Audi A4, BMW 3 Series, and the Mercedes Benz C-Class luxury-tier – everonye on the planet expects this to be a total game-changer.
Here are seventeen things you need to know about the legitimately impressive ride.
1.) It will start shipping in late 2017.
2.) You can reserve yours now for just $1,000.
3.) The price is ludicrous, just $35,000 for the base model.
4.) And that's before the $7,500 federal tax credit the United States government currently throws at anyone who purchases all-electric or plug-in hybrid rides.
5.) Unfortunately, the $7,500 tax credit isn't a guarantee by the time late 2017 rolls around, as it might lower or even disappear.
6.) Needless to say, don't count it.
7.) It's pretty speedy. The absolute slowest Model 3 will be able to go from 0 to 60 in less than six seconds.
8.) That's just as fast as the 1961 Aston Martin DB4 GT Zagato, 2016 Audi A6 2.0T Quattro, 1964 Ferrari 250 GTO, and 2016 Jaguar XE 2.0i 240.
9.) It will have a minimum electric range of at least 215 miles.
10.) It will come stock with all autopilot safety features at no additional charge.
11.) It seats five adults comfortably.
12.) The entire rear roof portion is one giant piece of glass.
13.) There's both front and rear trunk spaces
14.) It's expected to receive a five star safety rating.
15.) The Model 3 interior features zero gauges, just one giant center screen.
16.) Tesla is building a giant battery factory in Nevada to keep up with the crazy demand.
17.) Tesla already has 130,000 pre-orders and counting.