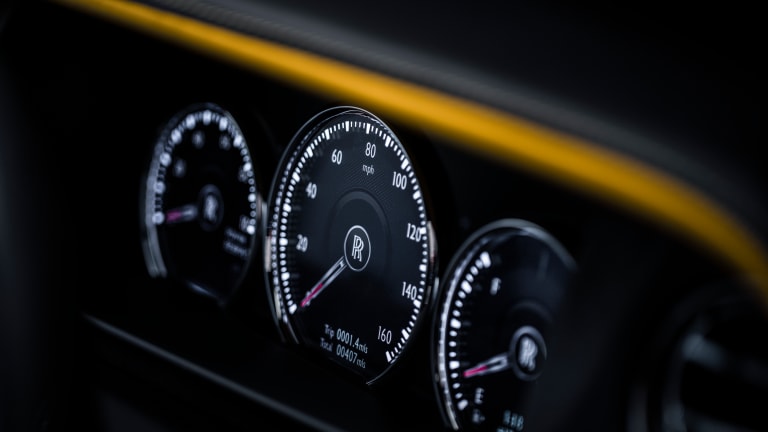 King of the Night: Rolls-Royce Reveals Sinister New Cullinan Black Badge
Rolls-Royce just added the Cullinan luxury SUV to its Black Badge line, giving its newest model a heavy infusion of "evil twin" style.
Originally introduced for the Wraith and Ghost in 2016 followed by the Dawn in 2017, the bespoke Black Badge package overhauls with a menacing feel that comes off as anything but stuffy.
For the Cullinan Black Badge, the famed British automotive group is offering 44,000 paint options, a high-gloss black chrome "Spirit of Ecstasy" mascot, carbon fiber trims with six coats of lacquer, updated 22-inch forged allow wheels, a striking combination of yellow leather and technical carbon veneer throughout the interior, a re-engineered drivetrain and chassis, a new exhaust system that produces a more satisfying sound, a bespoke transmission and throttle treatment, and a 6.75-liter V12 engine that delivers more power and torque than ever before.
"Black Badge reflects the desires of a distinct group of Rolls-Royce clients: men and women who take risks, break rules and build success on their own terms," says Torsten Müller-Ötvös, CEO of Rolls-Royce. "Indeed, before we launched Black Badge in 2016 the idea of creating a product that would satisfy this subversive cohort – that is highly dynamic and wilfully rebellious in aesthetic – caused a great deal of internal debate. However, once the marque's designers, engineers, and craftspeople began pursuing this dramatic alter ego, it became clear that these motor cars could not only exist comfortably beneath this revered and historic brand but they would define a new space within the super-luxury market."
Now available to commission, get in touch with your local dealer for more information on getting behind the wheel.