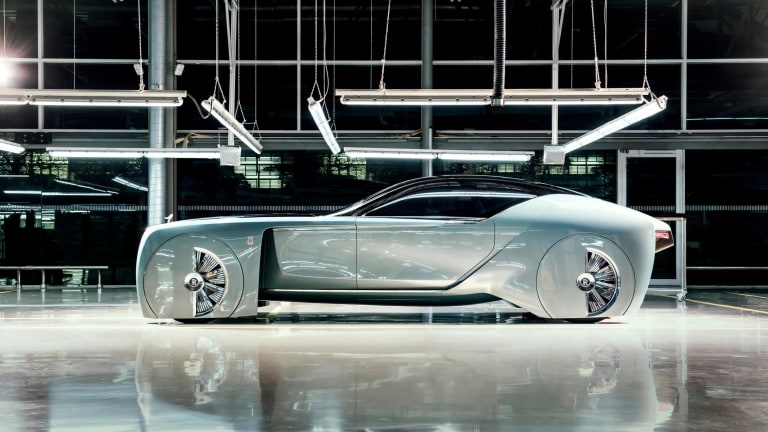 The Autonomous Rolls-Royce 103ex Is a Retro-Future Piece of Art
First look at their bold new direction.
The stunning Rolls-Royce 103EX is one of the coolest looking cars we've ever seen, with a design that perfectly mixes a retro, almost stream-punk aesthetic with futuristic stylish and your typical ultra-luxurious Rolls-Royce quality.
Most interesting, though, is how Rolls is really doubling down on the idea that their cars are "meant to driven in, not driven" by its owner. With a completely autonomous driving experience, it comes clad with a Siri-on-steroids virtual assistant named Eleanor who will handle your every need, minus pouring the champagne or holding the door open for your significant other.
They're calling the cabin area a "Grand Sanctuary," an aggressive move that they somehow pull off. It features all the typical Rolls-Royce polish – ivory carpet, silk and wool-wrapped sofa, Macassar wood paneling, and large OLED screens for your various entertainment needs.
There's no word on when this be available to purchase just yet, but the 103EX is easily the sharpest car Rolls-Royce has released in years. It's great to see an "older" brand moving forward at light speed.