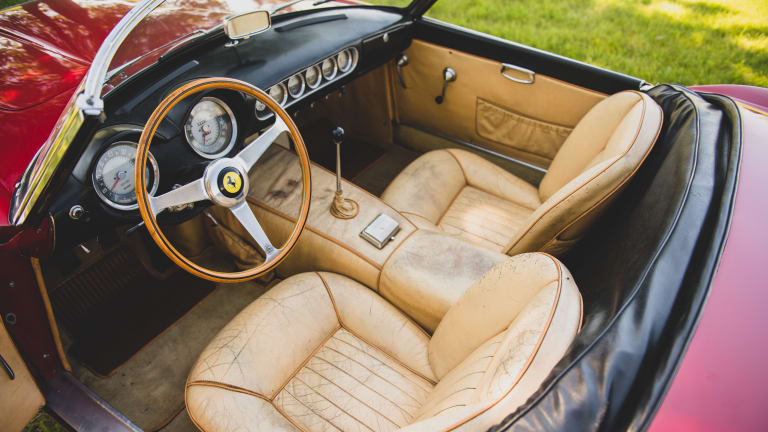 Multi-Million Dollar Marvels: Five Classic Ferraris On Our Wish List
The annual classic car auctions in Monterey, CA coinciding with the Pebble Beach Concours d'Elegance and related events never fail to produce some eye-popping autos. And this year RM Sotheby's has an even more amazing assortment of megabucks classic Ferraris set to cross the auction block, all dating from the '50s and '60s from Ferrari's golden era.
Hammering on Aug. 15-17 at the Monterey Conference Center in California, the ones we've highlighted here "represent some of the rarest models in the marque's seven-decade history." They join the roster of more than 150 of the world's most important motor cars that RM Sotheby's is selling that weekend.
"Our Monterey sale has long been a venue associated with some of the rarest, most important Ferraris ever built, and 2019 continues the tradition," notes Gord Duff, the company's Global Head of Auctions. Here are five prancing horses to really get your heart racing:
1962 Ferrari 250 SWB California Spider
The second to last example built and the only remaining unrestored SWB California Spider in existence. "Undoubtedly the most original, well-preserved example in the world," RM says. The previous owner George Carrick used the car as the inspiration for his book The Spyder California, one of the first Ferrari books ever published on a particular model. Having had just four owners in the last 50 years, it's offered fresh from 25 years of single ownership, in fully numbers-matching, Ferrari Classiche Certified condition. Est. $10.5 million—$13 million.
The last of just six examples ever built, this car was originally campaigned by Luigi Chinetti's North American Racing Team (N.A.R.T.) at the 1962 12 Hours of Sebring, where it finished 3rd in Class. It went on to enjoy a successful North American racing career in privateer hands, achieving a half dozen podium finishes and multiple class victories across nearly 20 races in the period. The SP cars were Ferrari's first mid-engine prototype cars and were integral to the evolution of the marque. It's in concours-quality, race-ready condition. Est. $8 million— $10 million.
1955 Ferrari 375 MM Coupe Speciale
This 375 MM, chassis no. 0476 AM, wears a one-off, alloy body by Ghia, and is the final Ferrari ever bodied by the famed coachbuilder. One of just four 375 MM Berlinettas featuring special coachwork, it's constructed on a full racing-spec 375 MM chassis and drivetrain and made its debut at the 1955 Turin Motor Show on the Ghia stand. Finished in its original configuration and complete with its original interior, the 375 MM is offered fresh from more than a decade of ownership in fully matching numbers, Ferrari Classiche Certified condition. Est. $5 million—$7 million.
One of just 12 examples built with Vignale Spider coachwork it was raced at the UK's 1952 9 Hours of Goodwood where it finished 3rd Overall, as well as at the Daily Mail International Trophy, where it finished 4th Overall and 2nd in Class. The 225 was subsequently sold to Argentina, where it was raced successfully into the mid-1950s. It's now offered fresh from nearly two decades of single ownership and is one of only three Ferrari models that are eligible for all four major vintage racing events: the Tour Auto, Le Mans Classic, Mille Miglia, and the Monaco Grand Prix Historique. Est. $4 million—$5 million.
1962 Ferrari 250 GT SWB Berlinetta
Last but not least, this is one of only 40 steel body SWB Berlinettas built in the final production run and was a model only made available to Ferrari's top clients at the time. "The presentation of truly one of the most exceptional 250 GT SWB examples extant at auction [is] nearly unprecedented," says Shelby Myers, RM Sotheby's' Car Specialist & Global Head of Private Sales. "The 250 SWB is considered by many Ferraristi as one of the finest designs to ever come out of Maranello. Couple that with the fact that they are extremely well-balanced and have plenty of power on tap and they represent the epitome of 1960s Italian motoring." Est. $8 million—$10 million.