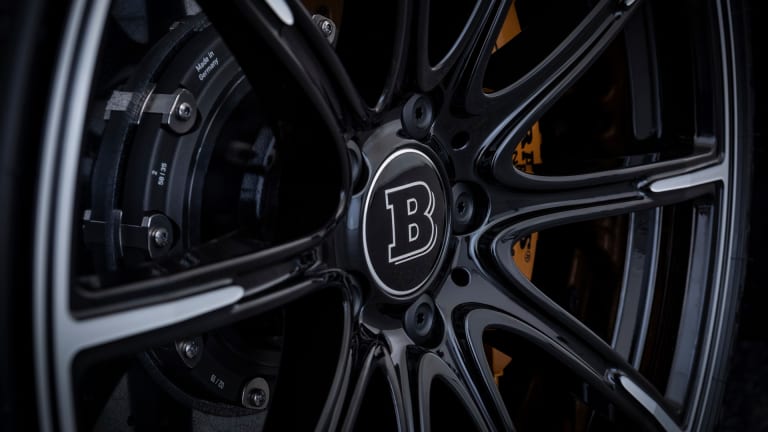 The New Brabus 800 Based on the Mercedes-AMG GT 63 is a Blacked-Out Bruiser
Brabus, the famed German Mercedes tuner, has unleashed its latest creation based on Benz's top of the line four-door supercar, the Mercedes-AMG GT 63 S. The Brabus 800 has an enormous 800 hp engine – 170 more than the factory model – blasting it from 0-62 mph in just 2.9 seconds with an electronically limited top speed of 196 mph.
Just debuted at the 2019 Top Marques Monaco show, its blacked-out looks are a combination of glossy paintwork and "naked" carbon aerodynamic enhancement components as well as massive custom forged 10-spoke wheels, with orange brake calipers providing the only pop of color.
Brabus boosts the horsepower to 800 by replacing the V8's twin turbochargers with larger and more powerful ones, among other modifications including new software. And it's equipped with a nine-speed sports transmission controlled via steering wheel-mounted aluminum racing paddle shifters.
A new custom sports exhaust also delivers a full-throated roar, which can be adjusted via different modes depending on just how much noise you want to make, with a "Coming Home" mode dialing it down to a civilized rumble.
Brabus' in-house upholstery shop has created a blacked-out leather and Alcantara interior for the newly-designed super sports seats, though since it is all bespoke you can specify any color combination you desire, with precious wood or carbon fiber inlays for the dash as well.
For all of their (very expensive) modifications, Brabus' cars have the ability to operate in stealth mode thanks to their color scheme, though no one could mistake the ominous B logo that replaces the traditional three-pointed star on the front grille.
Or the sound of those 800 horses hitting top speed...