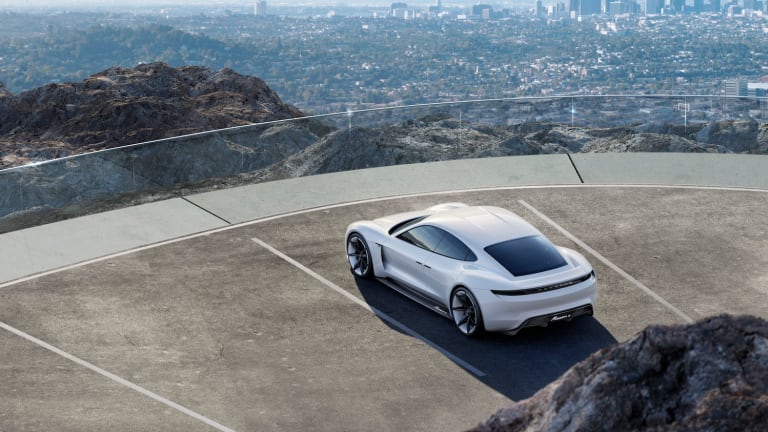 Porsche's Mission E Is A Tesla Crushing All-Electric Beast Of A Sports Car
About to steal lunch money from the Model S.
Right now, every automotive manufacturer is investing tons and tons of money into R&D as the world shifts from gasoline to electric vehicles. With Tesla leading the pack, many are playing catch up, but Porsche's newly unveiled Mission E is coolest (and most devastatingly impressive) competitor we've seen.
Boasting a 600-hp, 800-volt electric engine capable of 300+ miles on a single charge, the thing can fly from 0-62 in just under 3.5 seconds, so it's (obviously--it's Porsche) no slump in the speed department.
Design wise, it looks like a mix of the Porsche 918 with--believe it not--the Jaguar F-Type. It's not nearly as iconic (or cool) as the classic 911, but, in comparison, it makes the Tesla Model S look like a Honda Civic.
Most impressive about this ride, though, is how fast the battery can charge. The German manufacture is claiming it will take only 15 minutes to get this bad boy to 80%. If even remotely true, it's a game changer.
No word on pricing, release date, or if this thing will actually ever come out. Concept cars are always a tease, but Porsche will eventually release an electric ride, and it's very likely to be impossibly close to what you see here.