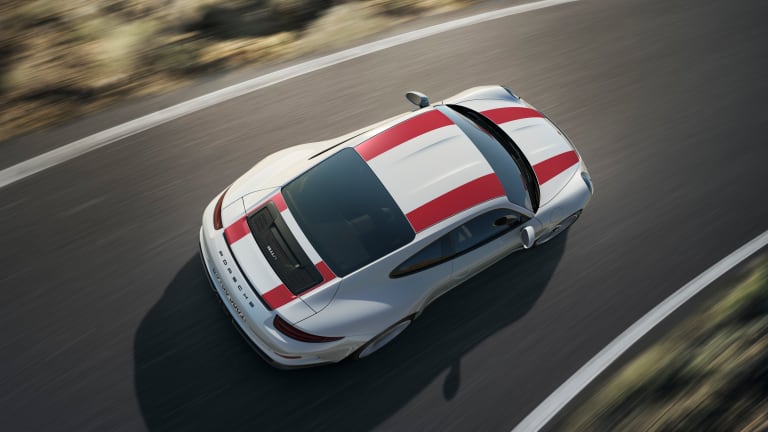 The Porsche 911 R Pays Homage To The Sports Car's Racing Heritage
The 'R' is for racing.
Making its world debut at the 2016 Geneva International Motor Show, the gorgeous new 2016 Porsche 911 R (the 'R' is for racing) pays homage to the original 911 R, which had a deep competition history ranging from Targa Florio to world record runs.
Limited to just 991 units worldwide, it's the lightest available version of the 911 and is loaded with a 500 horsepower four-liter naturally aspirated flat-six engine, which is the same track-ready power found in the 911 GT3 and 911 GT3 RS models. It pumps out an impressive 0-60 time of just 3.7 seconds and can hit over 200 miles per hour on the radar gun like it ain't a thing.
Though most of the show comes from under the hood and with its super cool red racing stripes, the car also has a few bells and whistles on the inside, including full bucket seats with carbon fiber backrests and seat centers upholstered in houndstooth design, the latter of which was inspired by the original 911 of the 1960s. It's also locked and loaded with a racing style steering wheel, an R-specific gear lever, and an embedded aluminum badge on the passenger side which indicates the limited production number.
It'll be hitting pavement later this year, priced at $184,900. Time to get those funds together...