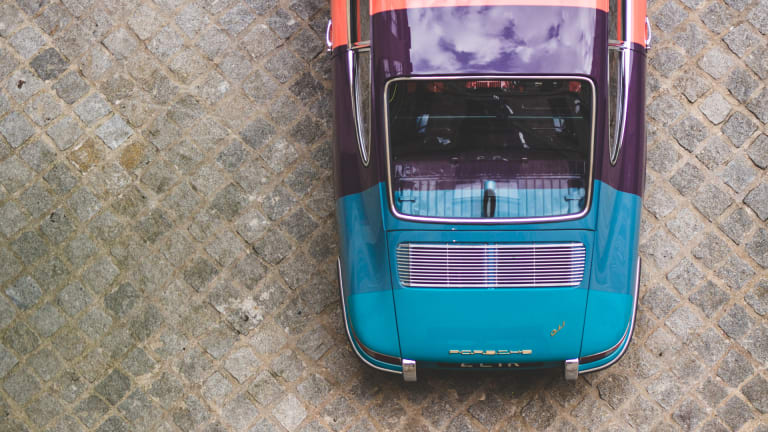 This Paul Smith-Designed Classic Porsche 911 Is Unbelievably Cool
British designer Paul Smith is one of the most stylish men in the world, and a true creative genius who has managed to stay on the cutting edge of style ever since he opened his first shop in 1960. Bold stripes, known as the "Artist Stripe", have always been his hallmark and he's applied them to many fashion items as well as various design icons over the years.
Until now, however, he's never done so with an iconic Porsche 911. In collaboration with U.K. Porsche customizer Sports Purpose, they have just produced one of the most beautiful art cars ever made and it's one we'd kill to own.
Using a vintage and already-stunning 1965 911 model as a base, Turner applied Smith's iconic stripes in a wider grade and 1960s-appropriate saturated hues to the vehicle.
And in order to keep the design pure, most of the vehicle's non-essential interior fittings were stripped down, allowing the gorgeous paint scheme to continue on the inside. Even the passenger's seat was deleted.
The classic car which features signature touches like a dark green roll cage, petrol blue racing seat cushions and signed custom wooden gear shift knob is designed for road races and just made its debut at the Le Mans Classic historic sports car event.
The collab and its first public appearance is especially apt as this year marks the 70th anniversary of Porsche's first Le Mans winner, the 356, as well as the 5th0 anniversary of the 908, which delivered some of Porsche's most impressive racing victories in the '60s and '70s.
While there's been no mention of the car being for sale, Sports Purpose could potentially create a similar car for anyone who was willing to write a big enough check. Meanwhile, we can well imagine Smith will want to keep the original for himself.
We thought that nothing could be cooler than Smith's custom Land Rover Defender. Turns out we were wrong....