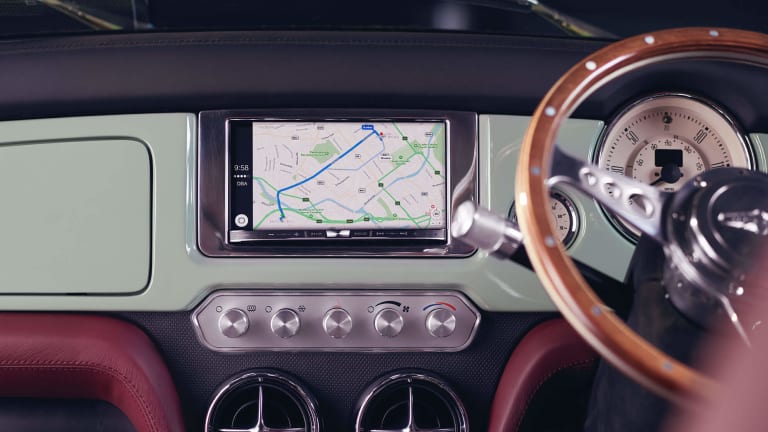 This Restomod Mini Mixes Classic British Cool With Bespoke Modern Construction
Calling Michael Caine.
David Brown Automotive, the upstart British car builder that brought back the classic Aston Martin DB5 in the form of the 007-worthy Speedback GT, has just unveiled its latest retro-cool retake: the Mini Remastered. Based on a classic 1960s Mini Cooper and adapted for modern living, the Mini Remastered mixes in some of the Speedback GT design cues, as well as coachbuilding construction, cutting edge technology and luxuriously materials, handbuilt at the company's new Silverstone HQ in Great Britain.
Each car is built by hand from the ground up in a 1000-man hour process to evoke the original's iconic Italian Job looks but with a much more streamlined and "softened" bespoke shape. Custom-built aluminum grilles, alloy wheels and a full LED rear light cluster echoing the one on the Speedback GT are some of the giveaways that this is actually far more than a restomod Mini.
Inside you'll find more modern touches like infotainment and navigation system, complete with Apple CarPlay and Android Auto, climate control, a multi-speaker sound system, keyless operation, USB connectivity and charging, as well as a push-button starter.
That's in addition to custom sculpted seats upholstered in British leather, retro Smiths analog gauges, and a bespoke wooden David Brown Automotive steering wheel. Of course, it also packs a lot more power than the original–up to 50% more depending on which engine specification you select.
Each exterior paint finish is painstakingly applied over four weeks and each customer can customize the car via a dizzying array of exterior colors, a contrasting roof, interior trim and wheels, along with a number of other bespoke options limited only by your imagination and resources.
For starters the company has unveiled the vehicle in three specifications–standard trim and two limited-production special editions, 'Inspired by Café Racers' and 'Inspired by Monte Carlo', each with appropriate finishes and accessories. Prices have yet to be announced, but we're sure plenty of classic Mini fanatics will find the necessary funds...