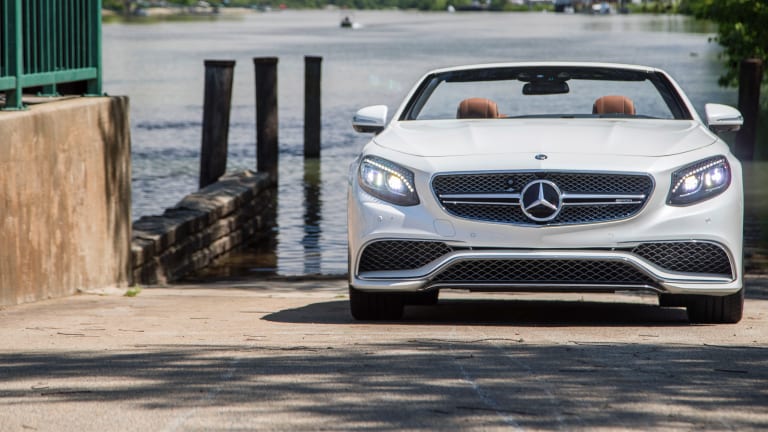 A Dream Drive With Mercedes-AMG's Understated Speed Demon
It doesn't get much better than this.
It's early morning in Atlanta. Sunny but chilly. About two and a half hours away from Augusta, where a Saturday & Sunday pass to the world's greatest sporting event awaits.
The Masters is calling.
We have a destination in sight; a countdown to a perfectly manicured golf course and Pimento cheese nirvana, and the keys to a Mercedes-AMG with a full tank of gas.
For the car obsessed, this is a dream.
For the golf obsessed, this is Christmas morning.
For the golf and car obsessed, this is enough to make your hands start to shake.
In a sea of AMG glory ready to hit the pavement, the 630 horsepower S65 Cabriolet turned the most heads, thanks to its roaring 6.0-liter V12 biturbo engine and sleek, open-air lines. It's the kind of car for the person who appreciates style without flash, luxury without compromise, and the concept of show-don't-tell. It's understated in all the right ways.
Sprinting from 0 to 60 mph in just 4.1 seconds, the whole thing feels effortless. Other rides with similar specs want to constantly remind you how big and bad they are. This doesn't. It's calm and cool. Totally collected and totally balanced. It's confident- exactly how you feel when behind the wheel.
The details of the car constantly impress, with everything from the chrome-plated twin tailpipe trim to the exclusive 20-inch wheel design adding serious style points. There's even an engine badge with the signature of the single technician who hand-assembled it, a nice reminder of the "One Man – One Engine" philosophy AMG has. Burmester High-End 3D-Surround-Soundsystem, dual 12.3-inch high-resolution screens, brushed aluminum pedals, the list goes on. The S65 has it all.
In next to no time, perhaps thanks to its 155 mph top speed, we arrive, with the rest of the weekend filled with dropped jaws as we spectate the most enjoyable, beautiful golf in existence, still slightly shaken up by the unmistakable sound of the AMG V12 engine. There'll never be anything quite like it.