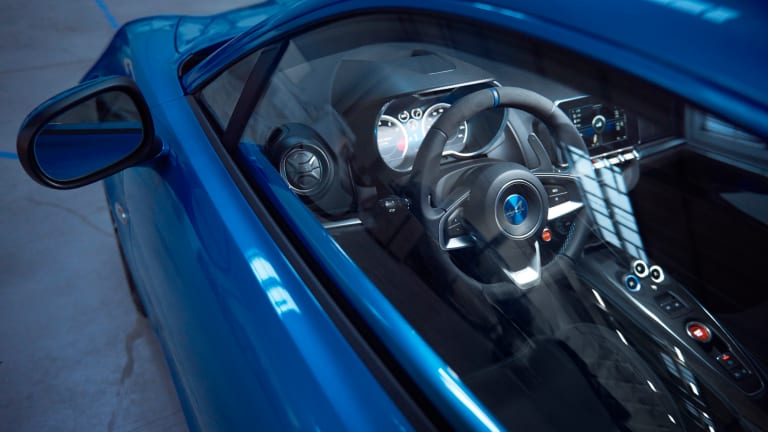 How the Iconic Renault Alpine Was Reborn
The Renault Alpine has been one of the world's most iconic sports and rally cars since it was first introduced in 1954. The sensuous coupe with a colorful history and signature shade of blue, named for the French Alps, captured hearts and trophies around the world, yet seemed destined for the dustbin of history after production finally ceased over 20 years ago.
In 2017, however, the marque was revived independent of Renault with the Alpine A110 concept shown at the 2017 Geneva Motor Show. More than a mere tribute, however, the all-new Alpine is designed to "deftly combines ultra-contemporary design with classic French elegance" – and outrun anything that gets in its way.
The model's rebirth is chronicled in a cool new coffee table book, Alpine: The Quest for Absolute Agility, just published by Flammarion and available on Amazon. In its beautifully laid out pages, artists, writers and designers pay homage to the remarkable machine, capturing the new Alpine's "sensual mechanics, masterful agility, and esprit de corps."
The new Alpine A110's name and ethos harkens back to the original A110 produced from 1961 to 1977 – still seen on the road in events such as Rallye Monte-Carlo Historique – but boasts higher performance and is more compact and agile than ever, not to mention bristling with the latest technology.
The Alpine represents not only performance and elegance but an entire way of driving. "Producing a successor to the Alpine [is] a great feeling and a great responsibility," notes the company's Deputy Managing Director Bernard Ollivier in the book's preface. It's "an incomparable opportunity and adventure" that you can share just by picking up a copy.
Which you'll want to do anyway as the book, designed to be a graphic and artistic extension of the actual car created using the same standards and techniques as the vehicle, belongs on the bookshelf of every automotive and design enthusiast. Amazon has it at a discounted price.