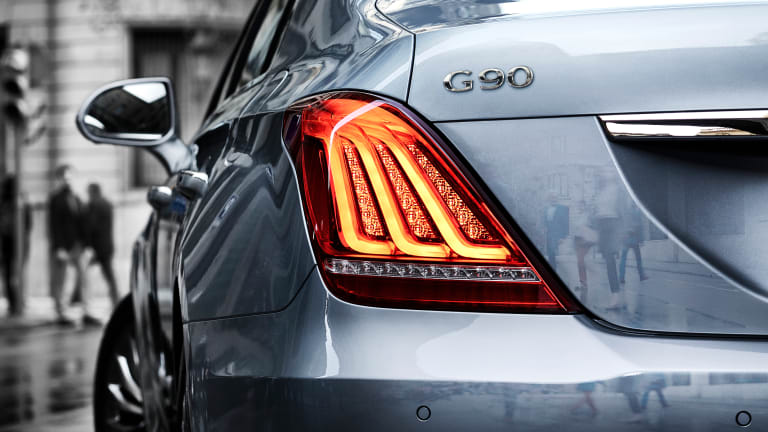 The Genesis G90 Might Be the Coolest Luxury Car You've Never Heard Of
Sponsored by Genesis.
You may know that Genesis was once the name of a flagship sedan. In 2015, however, it was relaunched as a standalone luxury marque and has been quietly gaining ground ever since. We say quietly because the Genesis G90 is subtle luxury at its best, not shouting for attention but delivering world-class performance and amenities.
Alongside a 3.3L Twin Turbo V6 good for an impressive 365 HP, you'll find luxe touches like Nappa leather seats, a Lexicon 17-speaker sound system, 12.3'' HD navigation, a heads-up display, start/stop system, smart cruise control, rearview camera, advanced safety technology, and more.
No wonder it's ranked #2 in Large Luxury Cars by U.S. News & World Report, while Car & Driver cites its "elegant styling" and "first-class cabin" and Consumer Reports calls it a "powerful" and "feature-packed" – i.e. you don't need to load up on pricey options because nearly everything comes as standard equipment.
Sometimes it takes a bit of humor to really get the point across, however, and Genesis has delivered with a clever new video starring Elle Evans, the other sexy babe from Robin Thick's infamous "Blurred Lines" video.
The clip stars Evans as a celebrity on her way to a posh event via a chauffeured G90. The chauffeur isn't too thrilled that she's brought along her annoying little dog, however, and he comes up with some clever maneuvers to keep it from doing what dogs inevitably do. We won't spoil it for you, but this is definitely worth a click.
You could pay a lot more for a European sedan with these kind of moves. But we're betting, because you're reading this site for one thing, that you're a bit smarter than that. And if it takes a hot chick and a small dog to seal the deal, so be it.