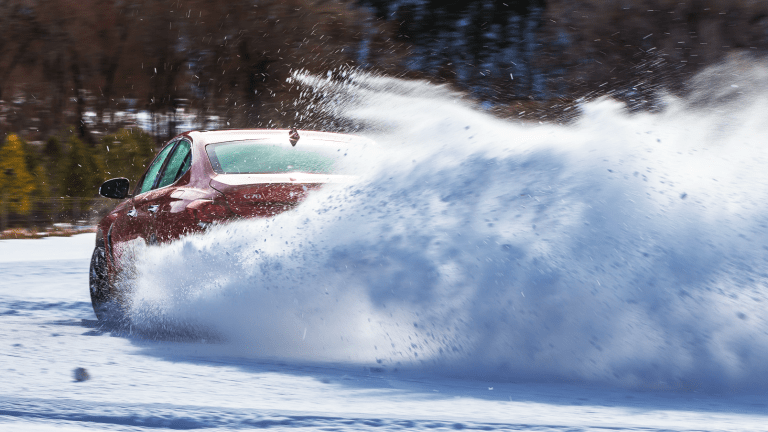 Getting Sideways in Aspen With Genesis' AWD Stunner
Not all car launches are created equal. Some are content with meek suburban roads and local highways. Others drop you at a frozen track in Aspen and ask for your best James Bond impression, safety features optional.
Genesis, which relaunched as a standalone luxury marque in 2015, rolled with the latter, prepped with a fleet of paramedics on standby and professional stunt drivers on hand to help us hone our skills on snow and ice.
Their new G70, good for 0-60 mph in 4.5 seconds and 365 HP, was the star of the show, packed with plenty of luxe touches including quilted Nappa leather seats, stainless steel speaker grilles, a heads-up display, a start/stop system, and a 15-speaker Lexicon high-fidelity audio system. It's crowd-pleasing and comfortable but not boring, thanks in part to the AWD system capable of arctic conditions and chase scene-worthy drifting, which we, of course, tested in spades. (And thankfully, it never let us down. Or threw us off a cliff.)
Despite the challenging driving environments, the G70 felt genuinely impressive and overly capable, no matter what we put it through. And though most daily commutes won't require you going full 007, there's peace of mind knowing you can escape a group of mercenaries in an alpine adventure if push comes to shove.
Prices for the G70 start at $34,900, which puts it squarely against compact German luxury sedans like the Audi A4 and BMW 3-Series, but does it pack enough punch to overcome general brand snobbery from badge-conscious buyers? Like those who understand there's more to watches than Rolex – and may opt for an equally impressive and often more interesting timepiece from a smaller brand like Bremont or IWC – we're betting the smarter driver will not just take note but take the wheel. And the rest? Well, they'll just have to catch up....