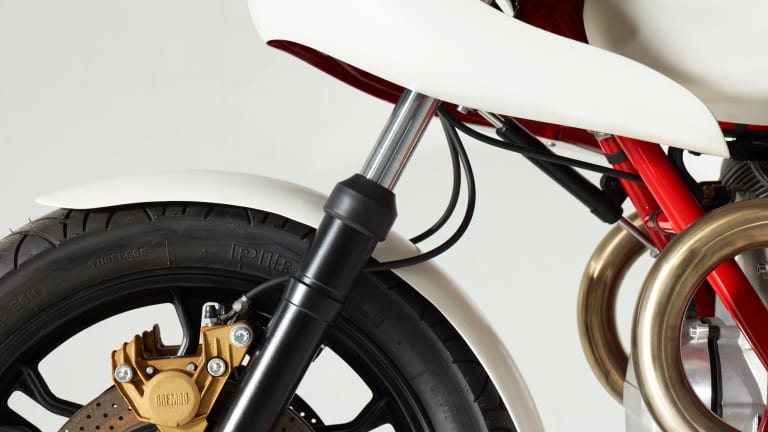 Feast Your Eyes on This Custom-Made Italian Racer
The team from Death Machines of London make a hell of an entrance.
Moto Guzzi is the Italian motorcycle manufacturer, and oldest European builder left on the track. So it's only fitting that the bespoke blokes from Death Machines of London debut their first motorcycle work inspired from Italian racing heritage.
Their first creation is a true Machiavellian performance – reconstructing in entirety an original '81 Moto Guzzi Le Mans, engine and gearbox. Only to inject a 950cc engine to be shown off through a designed dash incorporating aviation warning lights and main switch from a 1940 Merlin Spitfire fighter.
Its frame has been completely delugged and Airtailed providing a minimal form and room to keep it's electrical components hidden from sight. A Land Rover Defender tail light refitted with LED internals illuminates your view as you gawk from behind this stunner.
The in-house made fiberglass fairing and fabricated tank features Italian Red gloss and finished with an Old English white paintwork – a perfect pairing. And if their first build is nothing short of amazing, we are officially on the look out for anything that has two-wheels with their brass plaque signature underneath the back of the seat unit.