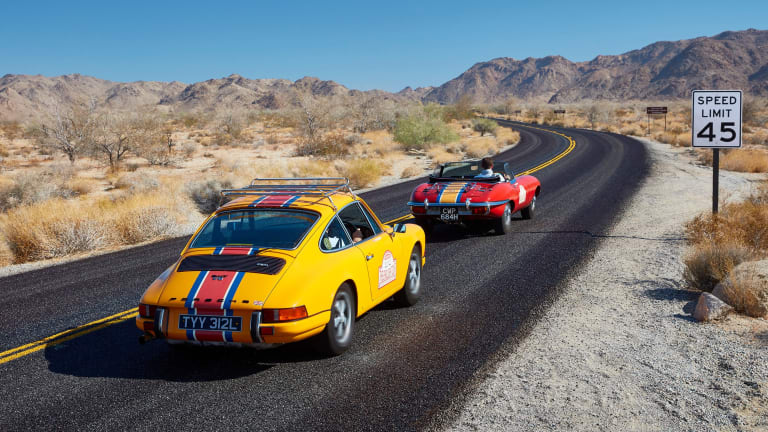 Join the Bremont Boys On Their Cool Classic 911 and E-Type Roadtrip
Last fall Nick and Giles English, founders of super-cool aviation and motoring-inspired British watch brand Bremont, embarked on an epic 3,000-mile road trip across the East Coast of the U.S. This summer they brought their signature style to the other side of the country with an equally impressive excursion from Phoenix to San Francisco.
Of course, the English boys traveled in style, behind the wheel of a 1970 Series II Jaguar E-Type (restored by their late father) and their 1973 Porsche 911T, both wearing custom racing stripes, with British photographer and cameraman Andy Wilson documenting the journey.
The route covered over 1,000 miles and they stopped to host events along the way, visiting local car clubs and launching the Waterman, a new limited edition dive watch with brand ambassador and renowned big-wave surfer, Mark Healey, during their stopover in Los Angeles.
"We had a few different motivations for doing the road trip but the bottom line was to be able to discover America," Giles English tells AIROWS. "Nick and I love our brand and would prefer to get involved personally rather than just stick a Bremont sticker on someone else's rally cars."
He adds, "we saw America in a way we would never have been able to by simply dropping in different cities, and we met some amazing people." The Waterman, unveiled during the Santa Monica stop, "was the first watch we've ever officially launched on the ground in the U.S. (as opposed to the UK) and everyone we met along the way was very excited about it, which is something we are really proud of."
Of course, the brothers kept Bremont time along the route alternating between a few different timepieces including the Bremont x Jaguar Mk II watch created in homage to the E-Type, a car which has had a profound influence on their design ethos.