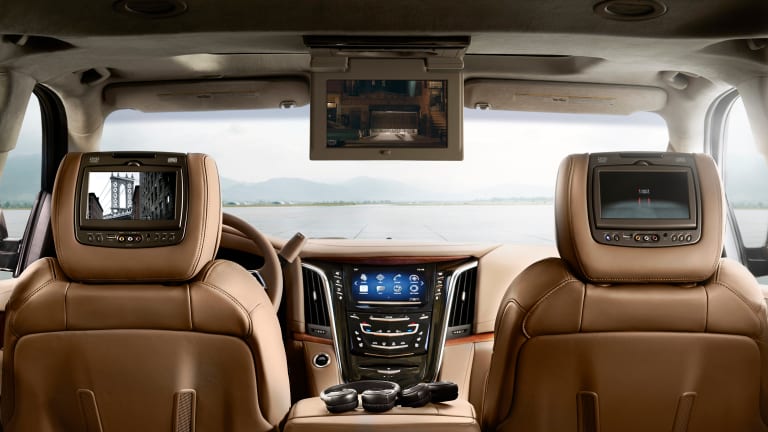 Is Cadillac's New Subscription Service the Future of Driving?
Leading the way.
One of the most exciting developments in the automotive landscape isn't from Karma or Tesla, it's from Cadillac.
Book by Cadillac is a new, month-to-month subscription service that lets you drive any car in their fleet for a set, $1,500/month fee. You don't have to spend a second thinking about insurance premiums, taxes, maintenance or mileage restrictions. It's all included. Just push a button and drive.
The $1,500/month fee seems a little steep at first, but the second you start running some numbers, it doesn't seem so drastic. Considering any car from Cadillac is available through the program, it's safe to say most people will be opting for the Escalade and CTS-V, their two top of the line rides.
Leasing either over a standard 36-month lease will set you back $850/month with a $5,000 down payment, around $150/month in insurance, and $300/year in state car registration. That comes out to around $1,160/month.
Still, that's far less than $1,500. Here's what will make the cost difference worth it to some:
You can swap cars in and out up to 18 times per year. Considering that each will have a full tank of gas, you're saving roughly $75/month on fuel.
Unlike a typical car lease, there are no mileage restrictions when you are a Book by Cadillac member. Road trip worry-free.
It's month-to-month and members are free to cancel at any time. Not for you? You're not locked in for three years.
You work directly with Cadillac, not some sleazy, shady car salesman.
You'll never have to deal with car insurance companies again. Small fender bender on the road? Cadillac will deal with it and have a new car to you right away.
You'll also never have to deal with maintenance again. Oil change? Hah. Tires need to be rotated? Yeah right.
You'll always have the latest and greatest. The second the 2018 models hit the pavement, you're driving one.
You'll be able to consistently have the perfect car for the occasion. Ski trip with a few friends? Get the Escalade. Romantic getaway with the significant other? CTS-V time.
Once this program rolls out to everywhere in the United States, you'll also get a free, luxury rental car whenever you're away from home. Imagine flying into Austin and having a pristine Cadillac waiting for you. No paperwork or long lines, just get in and drive.
All that is totally worth it to some people and totally not worth it to others. We're just excited for an automotive company thinking outside the box, as this could very well be the car lease of the future. It's launching in New York City soon and will be expanding to other markets in the near future. Head to their website for more information and to be notified when the service will be available in your area.