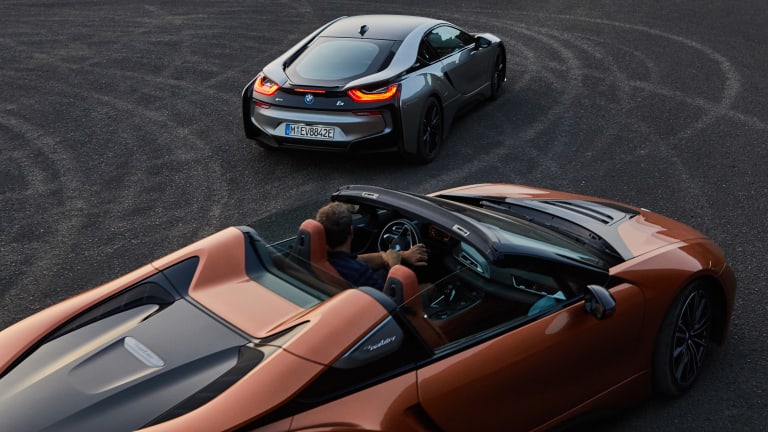 BMW Debuts i8 Roadster
BMW just introduced the i8 Roadster, a new model with a fabric soft-top that can open and close silently in just 15 seconds. It can even adjust on the fly up to 31 mph.
It features the same gullwing doors and powerful hybrid engine (0-60 in 4.6 seconds, top speed of 155 mph) as the hard-top version and has an all-electric range of 33 miles.
Yes, convertibles always look cooler, but there's something expressly stylish about this variant. The i8 feels more like a supercar than ever before.
Alongside the Roadster announcement, BMW also introduced two new colors, E-Copper and Donnington Grey, the latter of which looks particularly fantastic. If you've struggled with the hints of neon blue early models had, it appears they're slowly moving away from the Tron aesthetic for a more traditional BMW style. This is good news for German car enthusiasts who want an environmentally-friendly sports car but don't want to feel like they're driving around in a four-wheeled version of downtown Tokyo.
The i8 Roadster will be priced around $150,000, though a final tag has yet to be announced. We should see these hit pavement in late 2018.