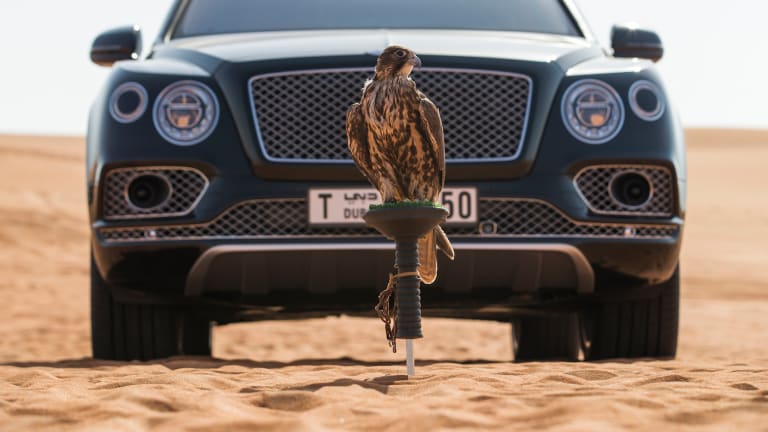 Bespoke Luxury & the History of Hunting Converge in the Bentley Bentayga Falconry Edition
Princely pursuit.
Evidence suggests that the ancient art of falconry dates back to 2,000 BC, making it one of the earliest status sports. So it's only fitting that Bentley's latest bespoke vehicle pays homage to the princely pursuit. The new Bentayga Falconry by Mulliner – Bentley's custom division – is a truly unique one-off ultra-luxury SUV designed for the falconer for whom money is no object. And when you consider that the finest and fiercest birds, known as Saker falcons, can command up to $1 million apiece this isn't such a farfetched idea.
Fitted with all the equipment required for a world-class falconry expedition in the most rugged of environments, the key features of the Bentayga Falconry by Mulliner are a custom "master flight station" and a refreshment case for when the day's sport is done. They are positioned on a movable tray for easy access and are lined in natural cork, with a special Piano Black veneered drawer with a Saker falcon crest holding the most essential items for the expedition.
Underneath the lid you'll find a laser-embossed "Hotspur" leather storage tray in a honeycomb-style finish with individual compartments for a GPS bird tracking unit, Leica binoculars and hand-crafted leather bird hoods and gauntlets, all made of the finest available materials. The refreshment case meanwhile houses three metal flasks with built-in cups, a blanket and even an array of cooling face cloths, all perfectly fitted with custom compartments. The effect is very Kingsman.
Two individual falcon perches are also stored in a special natural-cork-fabric-trimmed case which slots into a hard pocket built into the side of the boot, allowing falconers to ready their birds in comfort and shade. Inside the Bentayga's Hotspur-hide-trimmed cabin there's also a removable transportation perch and tether on the central armrest, as well as a marquetry desert scene on the dash featuring a soaring Saker falcon created with 430 individual pieces of wood sourced from all over the world, including Chestnut, Eucalyptus Pommele, Holly, Lacewood, Maple, Olive Ash and Ripple Sycamore, hand-crafted over the course of nine days.
Of course, the bespoke vehicle is based on Bentley's 600 horsepower Bentayga ür-SUV, but expect to pay a hefty premium over the $229,000 sticker if you want one kitted out this way. And while it may seem tailor made for your average oil sheik, but there are many practitioners of falconry in the United Kingdom as well as certain posh retreats like the luxe Equinox resort in Vermont, home of the Green Mountain Falconry School. Show up there in the Bentayga Falconry edition and you're bound to be king of the hill....