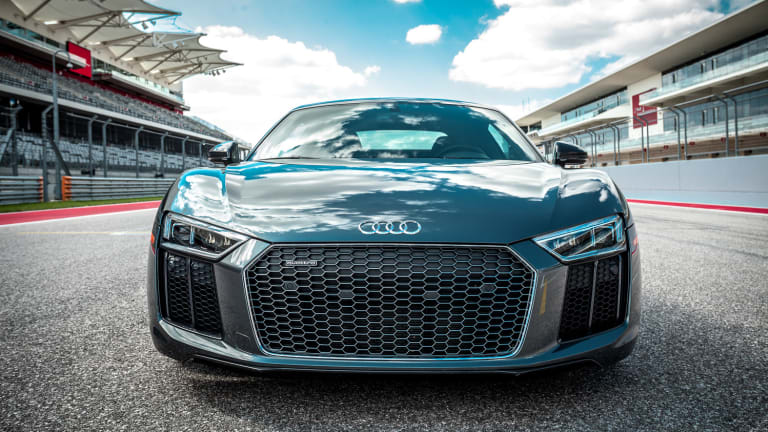 Audi's Awesome New Driving Experience Is for Refined Speed Freaks
Austin bound.
Want to race the incredibly cool Audi R8 around the best racetrack in the country at breakneck speeds? Book yourself pole position on Audi's all-new driving experience in collaboration with Austin, TX's Circuit of The Americas (COTA), where the United States Grand Prix, America's only Formula 1 race, is held each year. It's also the same circuit where the eye-popping R8 GT3 race car, based on the R8 coupe, competes, among other mean machines.
Now open year round to drivers of all experience levels, the Audi Sport driving experience features hands-on coaching from professional instructors, "dynamic car control exercises", proper cornering techniques and high-speed lead and follow drills on the track. In addition to the 610 hp R8 V10 plus you can get your gloves on the Audi Q7, the all-new RS 3 and the TT RS, Audi's new 360 hp pocket rocket.
There are four unique programs in all ranging from half day to two-day experiences depending on how in-depth you want to get. The entry level Audi Sport dynamic experience is an introduction to the key principles of performance driving techniques in the dynamic exercise paddocks behind the wheel of the Audi RS 3 and the TT RS.
Next up is the Audi Sport track initiation experience wherein participants master vehicle control and handling in the TT RS, RS 3 and the R8 V10 plus in both the exercise paddocks and on the track. Then things start to get serious with the Audi Sport R8 track initiation experience. You'll get behind the wheel of the R8 V10 plus and push it to the limit on the Formula 1 Circuit, training much the same way professional drivers do. And at the pinnacle is the Audi Sport R8 pro track experience, you have to complete the R8 track initiation experience to qualify, as it consists of thorough training from the professional instructors and two full days behind the wheel of the R8 V10 plus.
By which time you should be ready to give up your day job....