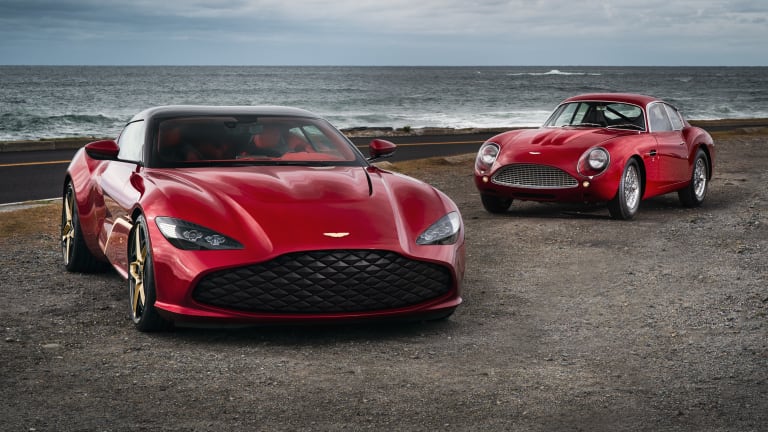 The Sublime Aston Martin DBS GT Zagato Is Here
The newly unleashed Aston Martin DBS GT Zagato is a beast of a car with Tony Stark style for days and a special kind of cool only supercars can manifest. But the most interesting thing about it is that it comes with a DB4 Zagato "Continuation" remake.
Officially unvieled at the Newport Concours in Rhode Island, Aston Martin states that they'll build 19 sets of both cars and requrie you to purchase both, not one or the other, which will set you back rougly $7.5mm.
The new car, the DBS GT Zagato, packs 5.2 liter V12 engine good for 760 horsepower and features a gloss finish carbon fiber roof and black anodized metal detailing on the grille. There's also a healthy amoint of eye-popping gold thoughout the car, ranging from a gold interior finish to 18-carat gold wings badges to gold 3D machined wheels. None of its exactly subtle, but that's the point.
The "Continuation" sports car, meanwhile, is hand built at Aston Martin Works using a mix of David Brown-era craftsmanship and modern engineering advancements. It's a beauty on every level, contrasting nicely with the more aggresive design elements of its modern counterpart.
For those lucky enough to get their orders in, the "Continuation" car will arrive in time for the holidays with the DB2 GT Zagato arriving sometime next year. Who's making room in their garage...?