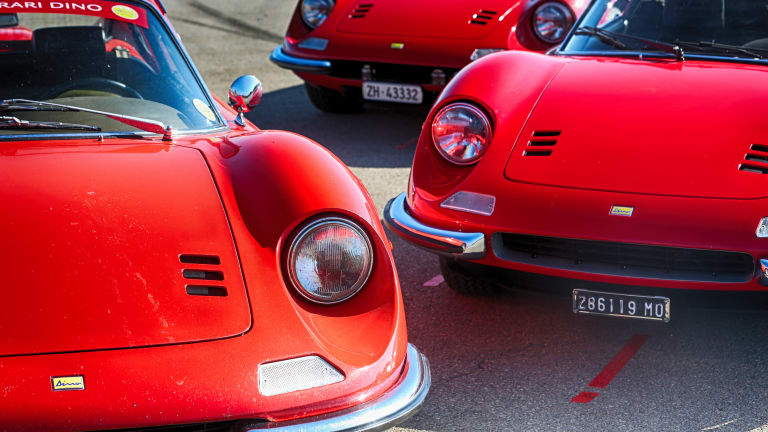 Over 150 Ferrari Dinos Got Together for This Historic Photo Shoot
In 1968 the first Dino built by Ferrari made its road debut, and though the mid-engined V6 wasn't considered a "proper" prancing horse for most of its life it's now come to be regarded as one of the era's most iconic sports cars and a credit to the marque.
To celebrate the Dino's 50th-anniversary last week over 150 Dinos from all over the world gathered at Ferrari HQ in Maranello, Italy for a historic rally and photoshoot that was near-orgiastic in terms of the automotive beauty on display.
With an engined designed by Enzo Ferrari's son, the sinuous GT named in his honor was first presented as a prototype at the Paris Motor Show in October 1965, then went on display at the Turin Motor Show in 1966 before being officially launched at the Frankfurt Motor Show in November of 1967, a rather unusually long birthing process.
In an incredible display, the 150 cars gathered at Ferrari's Fiorano test track to form a special Dino 50th Anniversary logo visible from the air. Afterward, the Dinos drove into the Ferrari factory for a special tour before every car paraded single file through the historic factory entrance gates.
The likes of Peter Sellers and Keith Richards drove Dinos, a classic red example of which was also featured in the Roger Moore/Tony Curtis TV series The Persuaders! alongside an Aston Martin DBS.
Famously debauched The Who drummer Keith Moon also owned one, that is until he lent it to some teenagers who admired the car one afternoon. He later found it in a ditch completely wrecked. To which the typically intoxicated rocker is said to have replied, "It's only money, who cares?"