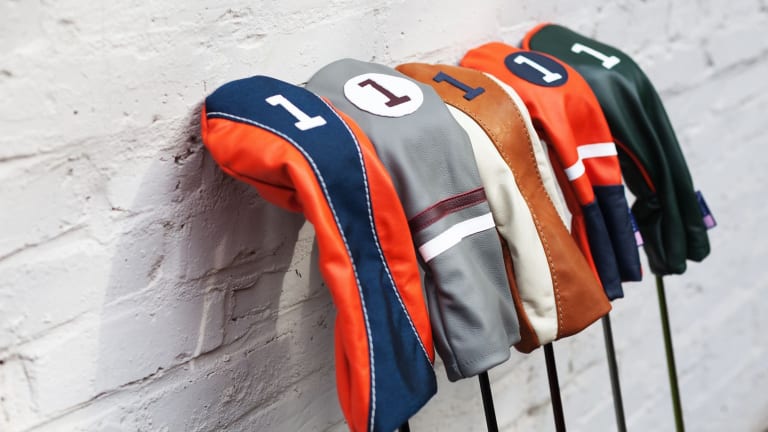 10 Things the Golfer in Your Life Actually Wants for Christmas
You can do better than golf balls.
It's the holidays, baby. The spirit is in the air, eggnog is flowing, and gifts are getting placed under the tree. But what to get the golfer in your life? You know, the father-in-law, co-worker, or cousin that can't get enough of the game. The obvious choice–golf balls–is always appreciated but tremendously boring. Go with one (or two, three, four...) of these instead.
This single strapped stand back from Jones has some serious retro vibes with all the new school features a modern golfer would ever want. Practically branding free, its simplicity is heavily appreciated as no person wants to feel like a walking advertisement on the course. If you really want to splurge on something nice, we also highly recommend Sun Mountain's genuine leather bags.
These beautiful leather headcovers are handcrafted in North Carolina and just dripping in sophisticated cool.

This newly released hardcover coffee table book will be a blast to look through on Christmas morning and add a serious dose of golf style to any room it'll live in.
The guys at TaylorMade were nice enough to send a set to our HQ and we can't get enough of these. If you're looking to seriously impress a newbie golfer who is ready to ditch whatever handy-down starter set he's been swinging, these are the ticket. Ultra-forgiving and fun to hit, these make golf (slightly) less frustrating.
Most golfers know having some whisky on hand is always a wise move. Upgrade his cheap, poorly monogrammed flask with this beautiful ceramic take from Misc. Goods Co. that features a leather strap and brass details.
Unless the golfer in your life is a single digit handicap, chances are- he needs lessons. Most independent spots are hit and miss- sometimes good, sometimes awful, most of the time in between. What's great about GolfTec is their quality control. The blueprint they use to upgrade your game is pretty much foolproof and it's amazing seeing your swing on camera from various angles. There are dozens of locations around the United States, so unless the golfer you're buying for is in the middle of nowhere, there's probably at least one facility close.
Co-signed by Apple and available in most of their retail locations, Arccos' system records every shot a golfer makes, analyzes the data in real-time, and seriously helps with decision-making on the course. There's a whole more to it but if you're buying a gift for someone who loves technology as much as they love the perfect tee short, they'll adore this set.
This is a beautifully written true story about a 1956 millionaire who bets a friend that two amateur golfers that work at his car dealership cannot be beaten in a best-ball match. His friend takes the bet and convinces legendary professionals Ben Hogan and Byron Nelson to take them on. The whole book chronicles the round and is a lovely, mesmerizing tale of sportsmanship, competitiveness, and vintage California. If someone loves golf, it's pretty much guaranteed they'll love this book.
If they don't already a rangefinder or simply haven't upgraded in years, the Tour V4 Slope Edition from Bushnell will be an amazing gift. With enough technology to probably be used in modern warfare, it's able to compensate distances for elevation change so they'll never be unsure of a club choice again.
When it comes to golf shoes, it really doesn't get any cooler than this look from ultra-stylish outfitter G/Fore.