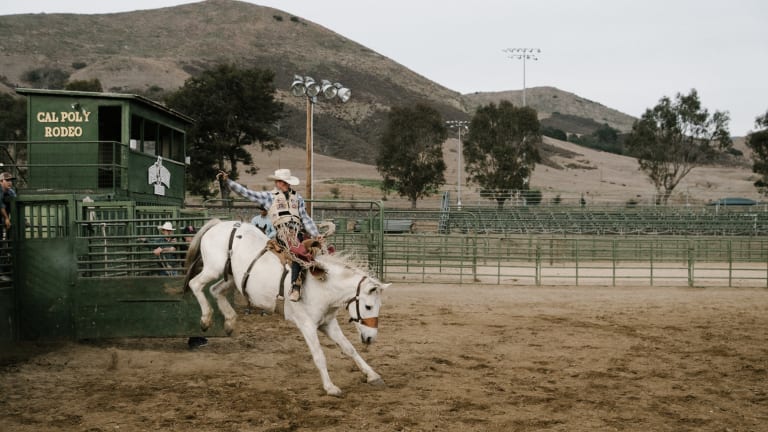 The College Class You Wish You Took
Cal Poly students are discovering a whole new way to wake up bleary eyed and sore.
We recently spent a weekend with our pals at OLIVERS, helping test out their 5 Pocket Pant, which is an impressive take on the traditional American work or riding pant that's sweat-wicking and abrasion resistant. We drove through the charming city of San Luis Obispo and down a dirt road behind campus until we saw the dirt arena, gates, and sign, "Cal Poly Rodeo." Saturday's are quiet here – a time for family, rest, and chores. The team's head coach, cowboy Ben Londo, pulls up on a tractor with his son sitting on his lap and a cowboy hat on his head.
We're invited into Cal Poly Rodeo HQ, a steel box with a make shift leather workshop in the back and team photos and awards on the walls--a trailer of treasures. Ben like the sport he has dedicated his life to is the embodiment of traditional American values: dedication, bravery, loyalty, and modesty. He doesn't brag or boast, but for those who know, Ben Londo is one hell of a rider. His career has taken him all over the country riding the best broncs and competing against the best in the sport. Now in his thirties, he is one of the old guys, but still competes whenever he can.
Ben shifts the conversation towards the next generation. He's trying to do something special at California Polytechnic State University for his students. On top of working towards a degree at one of the most prestigious engineering schools in the country, they wake up to work at the crack of dawn. They file out to the dirt ring tending their horses, studying, and flipping tires to build core and leg strength.
Some of them are here looking for a new challenge. Others grew up on rodeo. And some, presumably, are just crazy. But despite their differences, all wear cowboy boots and hats, and American blue jean denim. But their commonality is more than superficial. Watch them for awhile and you'll notice something else. These young men and women walk around with a sort of quiet confidence that seems older than their years. Maybe it's because unlike their NCAA counterparts, even a young cowboy doesn't get a bow or victory lap. They take their applause with the licks, and pick themselves off the dirt to climb back on.