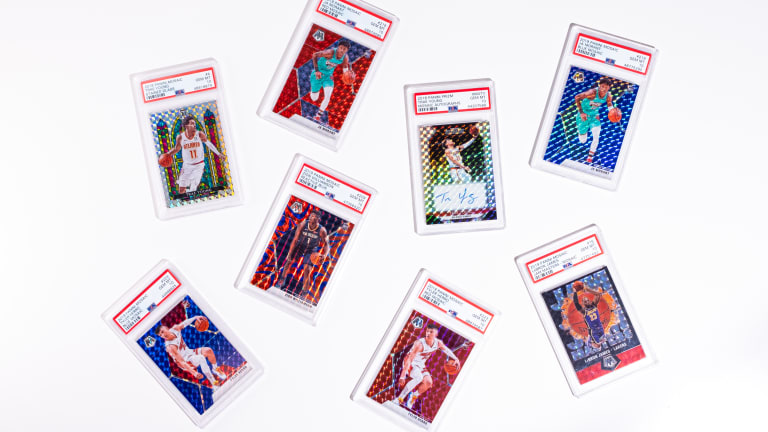 The Best Trading Cards and Collectible Assets to Gift This Season

Whichever holidays you're celebrating this year, we believe the best gifts are the ones that show you put in a little extra effort and offer the potential for value appreciation. And none show thoughtfulness — nor allow for pinpointing specific interests — like trading cards and other collectible assets. So whether you're trying to find the perfect gift for your sibling who doesn't miss a Lakers game or your best friend who loves fantasy football as much as you do, sports cards, cultural keepsakes, and other modern relics make for gifts that go the extra mile.
And to make your holiday shopping easier, and help you successfully navigate the market, we've rounded up an epic assemblage of our favorite buys in the space. Each is readily and regularly available on eBay, too, so you won't have to search high and low, or brave a crowded shopping mall, to score.
Given the price tag of a LeBron James rookie card, having one under the tree isn't the most realistic thing. Thankfully, his modern cards continue to gain value and provide stylish designs at a steep discount. Our favorite is the "Jam Masters" design featured in the Panini Mosaic Basketball set for the 2019-20 season. The Silver Mosaic version, graded GEM MINT 10 by PSA, can be found for as low as $325 USD, while the Green Mosaic version is being offered around the $150 USD mark. The base version, meanwhile, is your most affordable option at roughly $60 USD. The insert card is extremely popular — thanks, in part, to the big NBA Jam vibes — and is a good bet to hold or increase in value over the years as LeBron cements his spot as one of the best ever.
Did you know early comic book appearances of Iron Man and The Hulk command values in the high six figures? This is why we're excited about giving the gift of a Miles Morales asset. Who is, of course, the new Spider-Man first introduced in comic book form in 2011 and the star of the Into the Spider-Verse animated film. As his popularity increases — and the inevitable live-action movies dominate the box office — his early comic book prices should only increase in value. Our two favorite plays are Ultimate Fallout #4 (2011), which was his first-ever appearance, and Ultimate Comics Spider-Man #1 (2011), which was his second-ever appearance and first solo adventure. And though those could cost you over $1,000 USD when graded 9.8 by CGC (the leading third-party authenticator and grading service for comic books), a more affordable option is Spider-Man #1 (2014), which features a gorgeous variant cover illustrated by Michael Cho and can often be found under $300 USD on eBay.
Baseball fans are well aware of Fernando Tatis Jr., the electric San Diego Padres shortstop who brings a new level of style and swagger to the sport. And though he's already considered one of the five best players in baseball after his sophomore season, his rookie cards — like this Purple Holo variant from the 2018 Topps Heritage set, graded GEM MINT 10 by PSA — can be found under $250 USD right now.
Though buying singles is the most economical way to get into sports and trading cards, nothing is more fun than ripping open packs and hoping for numbered parallels and pricey autographed rarities. Sealed boxes of 2020 Panini Mosaic Football are one of our favorite products to buy right now, especially with three exciting rookie quarterbacks: Justin Herbert, Tua Tagovailoa, and Joe Burrow. And though the product is next to impossible to find at your local shops, eBay has plenty available at all times. We suggest going with the Mega Box, which is priced around $100 USD and contains multiple Reactive Green or Reactive Gold parallel cards. Hobby packs, at around $75 USD apiece, are also an interesting gift, as they provide an increased chance of super-rare cards.
Pokémon cards are lighting up the market right now, with high profile collectors like Logic paying nearly $200,000 USD on first edition Charizard cards graded GEM MINT 10 by PSA. And though the coveted 1999 set is all the rage at the moment, earlier Japanese sets are going largely ignored—for now, at least. Our two favorite plays for anyone on your list who grew up with Pokémon cards — or has expressed interest in the collectible asset class — are pieces from the 1995 Topsun set and the 1997 Carddass set, on display above. Not only are the designs beautiful, but the price is far more reasonable with ungraded Charizards regularly available under $200 USD on eBay.
Though Pokémon cards — and the video games that came with it — were a huge part of our youth, that's not exactly the case for kids today. Instead, Fortnite has dominated their attention. And while the corresponding trading cards aren't as popular as Pokémon cards once were, they do have a market with certain rarities, like the Black Knight Holo, fetching nearly $500 USD right now. Sealed boxes — in this case, best to keep sealed — are something to consider gifting this year, especially to a family member or friend who loves games and the surrounding culture. Pair with a handwritten note explaining why, and how, this might increase in value over time.
The NBA is overflowing with young talent right now, from Zion Williamson to Ja Morant to Tyler Herro. We love the idea of gifting one of their rookie cards this season while they're still relatively affordable. This allows the recipient to root for the player — and its value — without any of the risks involved. You have a lot of options here, of course, but we suggest going with a card from either 2019-20 Panini Prizm or 2019-20 Panini Mosaic sets, ideally graded GEM MINT 10 by PSA.
Soccer cards are a relatively new thing, with pricing fluctuating a little too much for our taste right now. And though we love the asset class and its global demand — especially ahead of the Euro Cup in 2021 and the World Cup in 2022 — we're waiting a few more months until things settle down and suggest you do the same. That said, stylish inserts of top young talent are rather affordable and make for great gifts and stocking stuffers for the soccer fanatic in your life. The "Prized Footballers" and "Finest Phenoms" collections from Topps Chrome UEFA Champion's League are undeniably cool and include stars like Kylian Mbappé of Paris Saint-German and Kai Havertz of Chelsea FC. Pricing on eBay tends to be under $20 USD each, too, so you won't be out much.
Trading cards and other cultural pieces aren't for everyone but that doesn't mean you're out of luck when it comes to gifts with potential value appreciation. There's everything from a case of ultra-rare wine to a Concours-ready collector car but that isn't exactly realistic, nor sized for under the tree. A fine timepiece, however, is, and eBay is making it easier than ever to score a used one without worry thanks to its "Authenticity-Verified" listings assured by eBay directly.
We're wrapping up our guide with one of the most exciting young athletes in any sport: Luka Dončić, the Slovenian sensation who has been lighting up the league and even landed All-NBA first-team honors in his second season. His rookie cards have been skyrocketing — and for good reason — but that doesn't mean you're too late to get in on, or gift, a potentially generational basketball star. The stealthy Obsidian card from the 2018-19 Panini Chronicles product is quite cool and can be fetched for around $1,000 USD on eBay right now, graded GEM MINT 10 by PSA. If there's an NBA superfan on your list, you can't do much better than this.