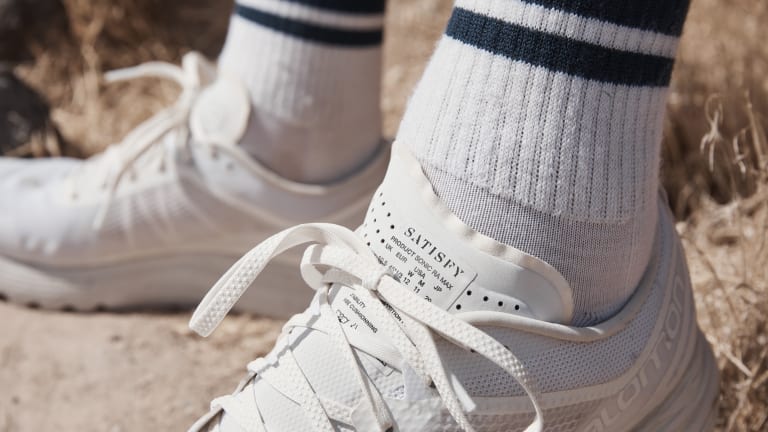 Treat Yourself to These Satisfy x Salomon Running Shoes–Now 30% Off
Released at the tail end of summer, Satisfy and Salomon's new running shoe is exactly what you'd expect from the two brands working together. In the best way.
The Sonic RA Max not only looks like a sleek performer, it's an effective one too. Designed for road-running, the shoe reduces vibrations hard surfaces upon foot strike, meaning that the most dedicated runners can continue past their pain threshold- something that should appeal to Satisfy's stubbornly hardcore brand loyalists.
Abundant memory foam padding (scope that extra helping of ankle cushioning) and an overall weight of less than 250 grams round out the shoe's functional elements, with a minimal design treatment that gels with the rest of Satisfy's stripped-down aesthetic. It's a toss-up between the black and white editions, but rest assured that either option will best whatever else you've got in your closet.
This is a fine time to reiterate the quality of Satisfy gear – they say you get what you pay for, but that's an understatement when it comes to Satisfy's careful balance of form and function. While it's obvious that Satisfy ticks the fashion-forward box, the level of technical perfection their shorts and shirts achieve is no joke. You'd think that longer-established brands like Nike would beat them when it comes to running buzzwords like 4-way-stretch and ultra-breathable but nay – Satisfy is just about the most comfortable way to hit the pavement. So we'd have to imagine their new shoes, especially with Salomon's industry cred behind them, are spot-on as well.
Now only $151 thanks to an end of year sale, grab a pair while you can and get miles ahead.