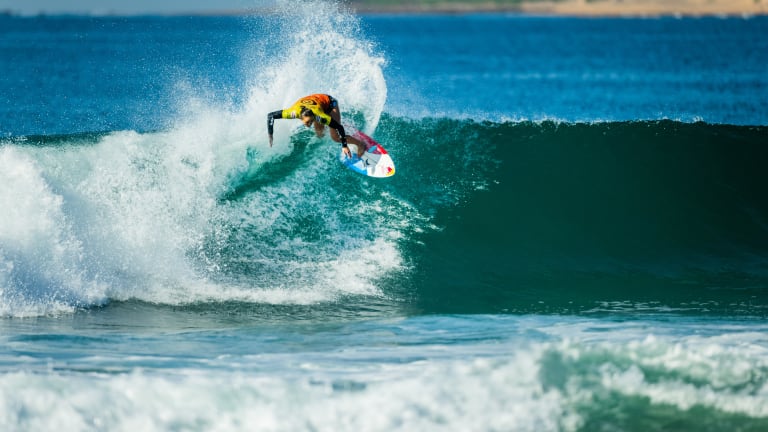 As surfing continues to explode around the world, the sport's governing body, World Surf League (WSL), is debuting a new championship event format with the upcoming Rip Curl WSL Finals. Their big idea: a one-day winner-takes-all title event to decide the best male and female surfers of the year. The elements are poetically simple: the top five men, the top five women, one day of surfing, and two championships to crown. "It's the biggest day in surfing history," Jessi Miley-Dyer, WSL Head of Tours and Competition, puts simply.
Established in 1976, the World Surf League is the global governing body of professional surf. Originally dubbed the International Professional Surfers (IPS) and then the Association of Surfing Professionals (ASP), the organization has a long-standing history of putting the world's best surfers in the world's best waves. Through the Championship Tour, the WSL crowns the undisputed world surfing champions each year.
This year, the World Surf League has invited ten athletes, five men and five women, to meet at the cobblestoned point in Lower Trestles, San Clemente, CA. From September 9 - 17, the athletes will wait to compete. The actual day of the Finals will be chosen when conditions are appropriate. At Lower Trestles, appropriate conditions mean some of the most high-performance waves in the world. At the end of competition, one man and one woman will be named World Champions and receive equal prize money. Of the ten surfers, two names you need to know are Medina and Moore.
Hawaiian Carissa Moore (in surfing, Hawaii is its own represented nation) is the top-ranked female in the world. A four-time WSL Champion, and recently Olympic gold medalist, Moore is a force to be reckoned with.
At the top of the mens' field, Brazilian Gabriel Medina is looking to win his third title. But Medina and Moore will be on the beach for most of the Finals event. They won't surf until the fourth and final round of competition, the title match. During the first three matches of the Rip Curl WSL Finals, the remaining four highest-ranked male and female athletes will face each other for the right to compete in the title match. In this group is Tatiana Weston-Webb, who is looking to become the first Brazilian woman to win the title. She has a chance at turning this dream into a reality.
For the men, Italo Ferreira, last year's champion and Olympic gold medalist, is the favorite to end up in the title match against his countryman Medina. But remember, this is a winner-take-all, one-day event. Anything could happen.
The event window for the one-day Rip Curl WSL Finals runs Sept. 9 - Sept. 17. The event will be broadcast LIVE on WorldSurfLeague.com and the free WSL app, which you can download here on iOS and here on Android. We'll make sure to update you ahead of liftoff.