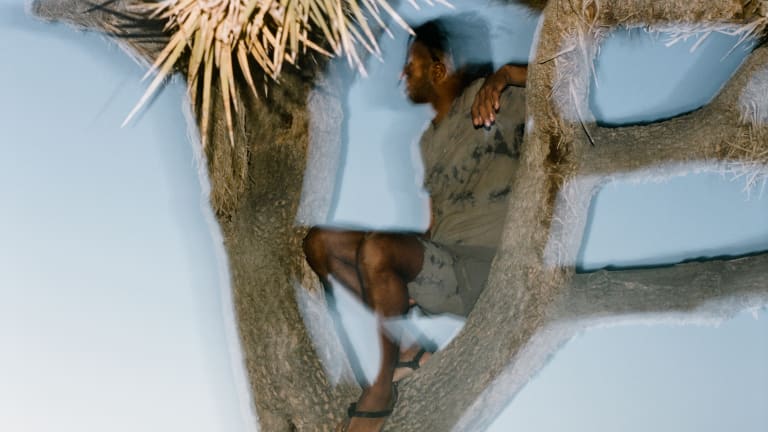 Reigning Champ x Ryan Willms Launch Running/Recovery Collab
Reigning Champ has linked up with Ryan Willms on a stylish, ltd. edition collection designed for running and recovery.
Willms — perhaps best known for helming Inventory Magazine back in the "golden age of blogging" — currently works as a life coach and is the creative force behind Into the Well, a new media venture focused on "living authentically by balancing the emotional, physical, mental, and spiritual for sustainable well-being." We are big fans of the minimalistic, meditative approach his work oozes, which to no surprise extends throughout the collection.
The collab is made up of eight garments, which are led by a running short and two running shirts that mix technical fabrics with an innovative tye-dye treatment. They're joined by short and long sleeve cotton tees with original graphics co-designed by Willms and art director Sam Jayne, a short-sleeve running jacket cut from Reigning Champ's woven mesh "Dot Air" fabric, and a minimalist running sandal developed with Luna.
"I'm very proud of how this collection turned out," says Willms. "Dying technical fabrics is something Reigning Champ has never done before, so it was fun to push their capabilities and create something that's so aesthetically exciting."
"And working with Luna Sandals is a bit of a dream come true," he continues. "When I made the decision to leave the fashion industry and reset my life back in 2017, my health coach took me to buy my first pair of Lunas. The experience of running in them was so transformative, the way it reconnected me with my body and the natural world around me. It's actually become the foundation for my teachings: run with your heart, not your legs. That's what I encourage my clients to do, and that's what this collection is designed for."
Out May 28.