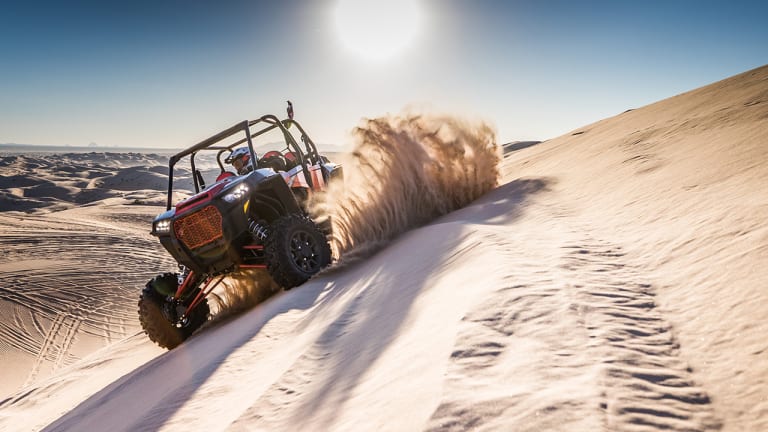 In the Dunes at Polaris' Annual Off-Road Meet Up
I recently had the rugged pleasure to attend the most badass off-roading gathering imaginable: Polaris' Camp RZR event.
Yearly, the off-road brotherhood flock together with the legendary American manufacturer, resulting in one of the most awaited weekends of the year for serious off-road enthusiasts. This year, it was held in Southern California's Glamis Dunes, where I was fortunate enough to rip the new Polaris RZR XP 4 Turbo DYNAMIX Edition over 50-foot sandbanks and up 300-feet sand mountains throttling some 40-mph.
Built to redefine the off-roading experience, the RZR XP 4 Turbo DYNAMIX Edition was perfectly designed for this type of motoring adventure. It's equipped with DYNAMIX Active Suspension, the world's first and only intelligent off-road suspension technology that monitors critical driver and vehicle inputs 200 times per second. The real-time adjustments were too good to be true while maneuvering the sand waves and now I see exactly why owners will opt for the nearly $30,000 beast when it parks at dealerships come December.
This was my first time experiencing off-roading the dune landscape, but now know firsthand why it's the preferred terrain of choice for some 100,000 vehicle owners that attended Polaris' Camp RZR. It's a challenging driving adventure where expert handlers truly stand out navigating the steep dune slopes. Whether you're an off-roader or just someone who likes to go fast, I'd encourage motorists of any level to attend Polaris' Camp RZR event in 2018 and deep dive into the experience.
See you next year....