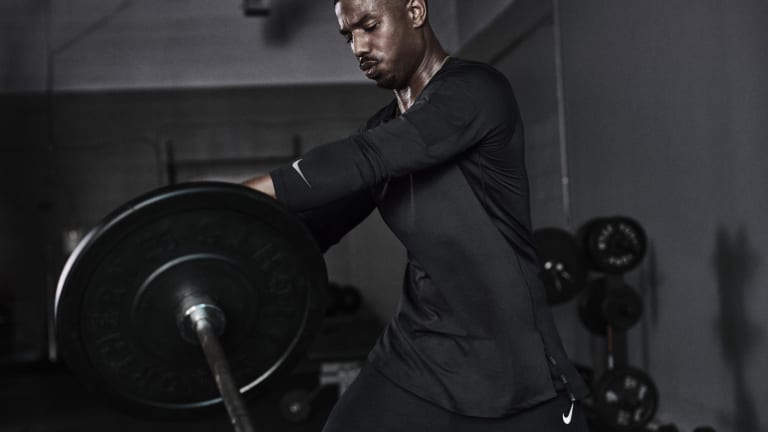 Michael B. Jordan Shares His Training Tips for the Gym
Michael B. Jordan got his start in TV, with iconic roles in The Wire and Friday Night Lights at a young age. Now, he's starring in some of the biggest movies in the world, like the critically beloved Rocky sequel Creed (in which he packed on 24 pounds of muscle for) and Marvel's upcoming Black Panther epic. He's also, without question, one of the most ripped actors in Hollywood.
Unlike many other big names in movies who put on some muscle for a role only to lose it, Jordan keeps a rigorous, Dwayne Johnson-esque training regimen going at all times. "I don't go out all the time. I don't party. I try to evolve and grow and work on myself," says the actor.
Though most of us mere mortals don't have the natural athleticism (and time, money, equipment, coaches...) that Mr. Jordan has, his training and motivational tips and tricks can apply to anyone looking to get into a little better shape.
TURN STRESS INTO A FORM OF FITNESS FUEL
"I'm usually really stressed when I walk into the gym. I think about what's bothering me at the moment, what I want to leave in the gym. Then I just work it out. And somewhere within the workout, I find myself not thinking about it anymore. And sometimes I realize that the problems and the stress aren't as bad as I thought they were walking into the gym. It can change the way I react to certain things."
THINK OF A WORKOUT AS A CHANCE TO LIVE BETTER, NOT A CHORE TO CHECK OFF
"You only get one body, and you've got to take care of it as much as you can. And if you're not in good shape, if you're not mentally strong, if you're not physically fit, being energized and getting through a busy day is going to be really tough."
MAKE A COMMITMENT TO EVERY REP
"Finish a set, finish a routine. You can't just stop halfway through…I can't just stop in the middle of a take. I can't just stop in the middle of a relationship. Quitting is something I try to never even let into my mind."
MOVE IN A WAY THAT MOVES YOU (FOR JORDAN, IT'S BOXING)
"Boxing. It's like, everything is connected when I connect. When you hit it clean, you just know it. You feel it. It just flows and it connects. Searching for those perfect punches is cool."