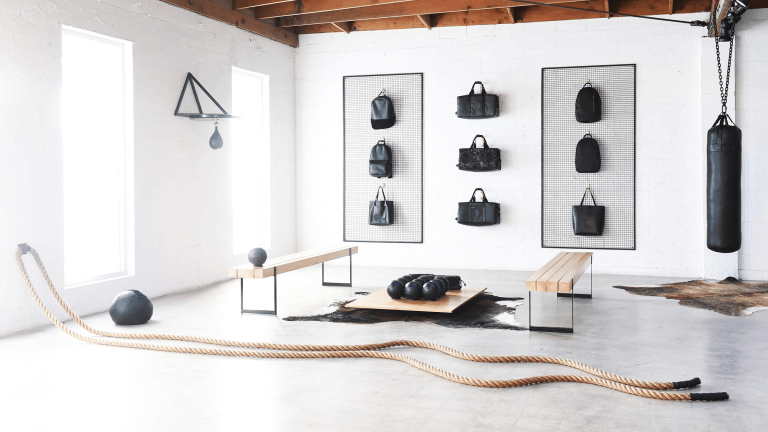 Five Home Gym Essentials That Go Beyond Peloton
The Peloton is taking over (and for good reason, it's great) but if you want to break a sweat without cycling, here are five incredibly impressive and aesthetically pleasing fitness essentials for the home gym:
Water Rower Classic, $1,495
So beautiful you could have on display in your living room if you so choose, the Water Rower Classic is built by hand in the USA from solid American black walnut and finished with its signature 'WaterFlywheel' that mimics the feel of rowing a boat on actual water while creating a tranquil sound and working a whopping 84% of your muscle mass with each stroke. The rower burns roughly 1,000 calories per hour, making it an effective and surprisingly relaxing way to get your fitness in, and comes finished with an S4 performance monitor to track your stats.
Killspencer Heavy Bag, $1,950
Made from premium full-grain leather with solid black hardware, Killspencer's 120-pound heavy bag is a great way to practice your technique and get out some aggression in satisfying style.
RPM Training Dual Axis Aluminum Jump Rope, $40
Perfect for both warm-up sessions and hardcore endurance rope-a-thons, RPM Training's handsomely designed jump rope is 'constructed like your life depends on it' and finished with precision machined aluminum handles that are incredibly durable and guaranteed for life. It also features a patented dual-axis handle design that eliminates torque build-up and an internal anti-friction system for a smooth spin.
Nohrd Slimbeam Cable Machine, $1,650
The Nohrd Slimbeam Cable Machine comes with 14 weight plates inside a sleek wood enclosure that adjust between 11 and 165 pounds of resistance, each rubberized to prevent noise. The sleek, stylish device sticks out less than a foot and a half from the wall and even comes with a tonal wooden chin-up bar out of the box.
Killspencer Heavy Rope, $350
Work on your strength training and get an intense, muscle-toning workout with this heavy rope from Killspencer that gets all the details right, including the 9" black lash on each handle and included metal wall bracket.