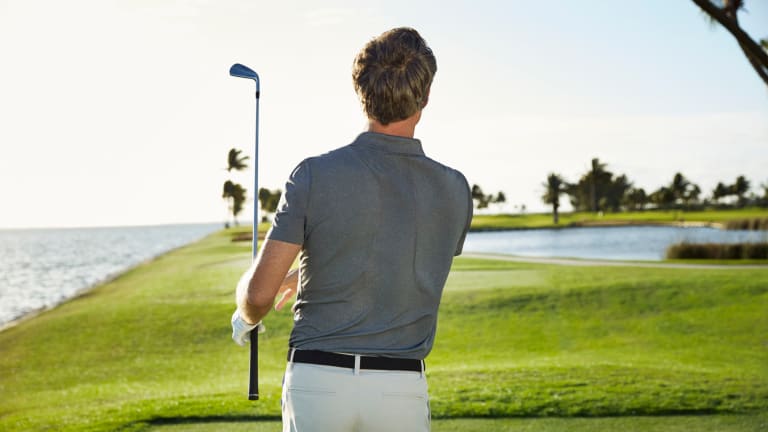 15 Father's Day Gift Ideas for the Golf-Obsessed Dad
Help him hit the course in style.
If the pops in your life is an avid golfer, like many men of a certain age and taste, here are a few things he'll actually want for Father's Day, and no, a dozen Top Flights is not one of them.
The extra lightweight caddy bag from Stitch is sleek, blacked-out, and a guaranteed compliment magnet at any club.
Featuring a custom "Pray for Birdies" patch, custom cording, and an adjustable strapback closure, this cool trucker hat will be warmly received from any golf-crazy dad.
Slim but not tight, the flattering, branding free Bradley Allen polos are a classic and cool look no guy can disagree with.
Linksoul and Seamus joined forces on this super beautiful ball marker handmade in Portland, Oregon by a local blacksmith.
The Pro Soft golf balls from Vice feature a stunning matte outer coating thanks to tiny silicate particles in the clear lacquer. In person, they're the prettiest pearls you've ever seen. On top of the extraordinary feel and matted-out style points, each ball can be customized with something with a personal image or text.
Arccos' ingenious system records every shot a golfer makes, analyzes the data in real-time, and reveals strengths and weaknesses to enhance on-course decision-making. If your father is pretty tech-savvy and doesn't call you every other week with iPhone questions, this is something that will drastically improve his game.
When it comes to golf pants, nobody in the game is even close to the fit and performance of Bonobos. Available in a variety of colors and patterns plus four different fits for various builds, these are as dialed in as golf pants can get.
Inspired by Bobby Locke's Open Championship winning putter, this flatstick in polished dark slate gray is simply incredible. Whether he games it or shows it off in his office like a piece of art, this beauty is pretty enough to make a grown man cry.
The golf Gods at GOLFTEC teach approximately one million lessons annually at their nearly 200 locations around the world. Providing comprehensive, tech-based instruction and finely-tuned club fitting wizardry, every golf-obsessed dad wouldn't mind a few pointers from one of their pros.
This signed and limited edition piece of art by Geoff Cunningham is a sure thing gift for any dad who has Golf Channel on 24/7.
Fit with premium waterproof leather, this lightweight, ridiculously stylish golf shoe is somehow both extremely conservative and super contemporary.
This exceptionally lightweight half-zip jacket will his go-to when the weather is less than ideal but the course is still calling.
100% designed, machined, finished and torched by hand in the USA, this achingly gorgeous divot tool is something 'ol dad will hold onto forever, especially if you customize it with personalized stamping and paint fill.
Made from high quality 100% leather, these headcovers will add some major league style points to his WITB game.
When it comes to rangefinders, this sniper from Bushnell is the cream of the crop. Packing slope-switch technology, lightning-fast measurements, and rubber armored metal housing, it doesn't get much sweeter than this.