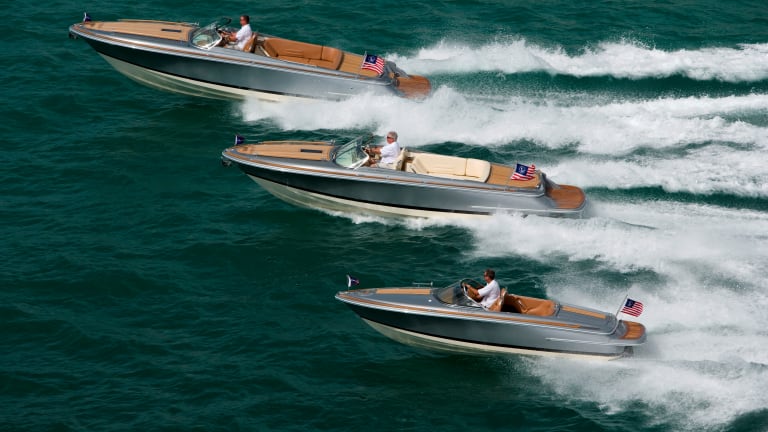 A Visual History of America's Most Beautiful Powerboats
Since 1874, the Chris-Craft corporation, originally of Michigan and now based in Sarasota, Florida, has been building boats renowned for their beauty, craftsmanship and performance, becoming a paragon of classic American leisure and luxury in the process.
Beginning with the varnished mahogany runabouts it originally produced that are now lovingly restored and highly prized by collectors, Chris-Craft boats have been the source of treasured memories and iconic images for many years.
Next month Rizzoli will publish Chris-Craft: An American Classic, now available for pre-order on Amazon, by dashing yachtsman and author Nick Voulgaris III with a foreword by Ralph Lauren, whom like Katharine Hepburn, Dean Martin, Frank Sinatra, and Elvis Presley has owned and treasured Chris-Craft boats.
"I have always loved things that have a timeless beauty to them — a beautiful timepiece, a vintage race car, a weathered barn, a Navaho blanket, an old leather book, and, of course, a handcrafted wooden boat," Lauren writes, noting that Chris-Craft's "class and heritage and timeless spirit" have led him to use them in more than one alluring ad campaign.
Chris-Craft's boats have also been immortalized on the big screen in everything from On Golden Pond to Mission Impossible, and the modern sister ships of the classic wooden boats from earlier decades share the same design ethos, gorgeous lines, high quality, and signature style.
The must-have book features photos of more than 200 boats from never-before-published archival images to great color photos of collector and new boats as well as plans and ephemera from Chris-Craft's own collection.
"Today the name Chris-Craft continues to conjure up visions of sleek runabouts, shiny chrome and varnished wood," writes Voulgaris, who owns a classic Chris-Craft boat christened Dasher. "Their boats are evocative and convey a feeling of nostalgia and romance while constantly advancing with both new materials and technology."
You may own one already or merely dream of doing so, but either way, this book is a worthy way to immerse yourself in the world of this iconic American brand.