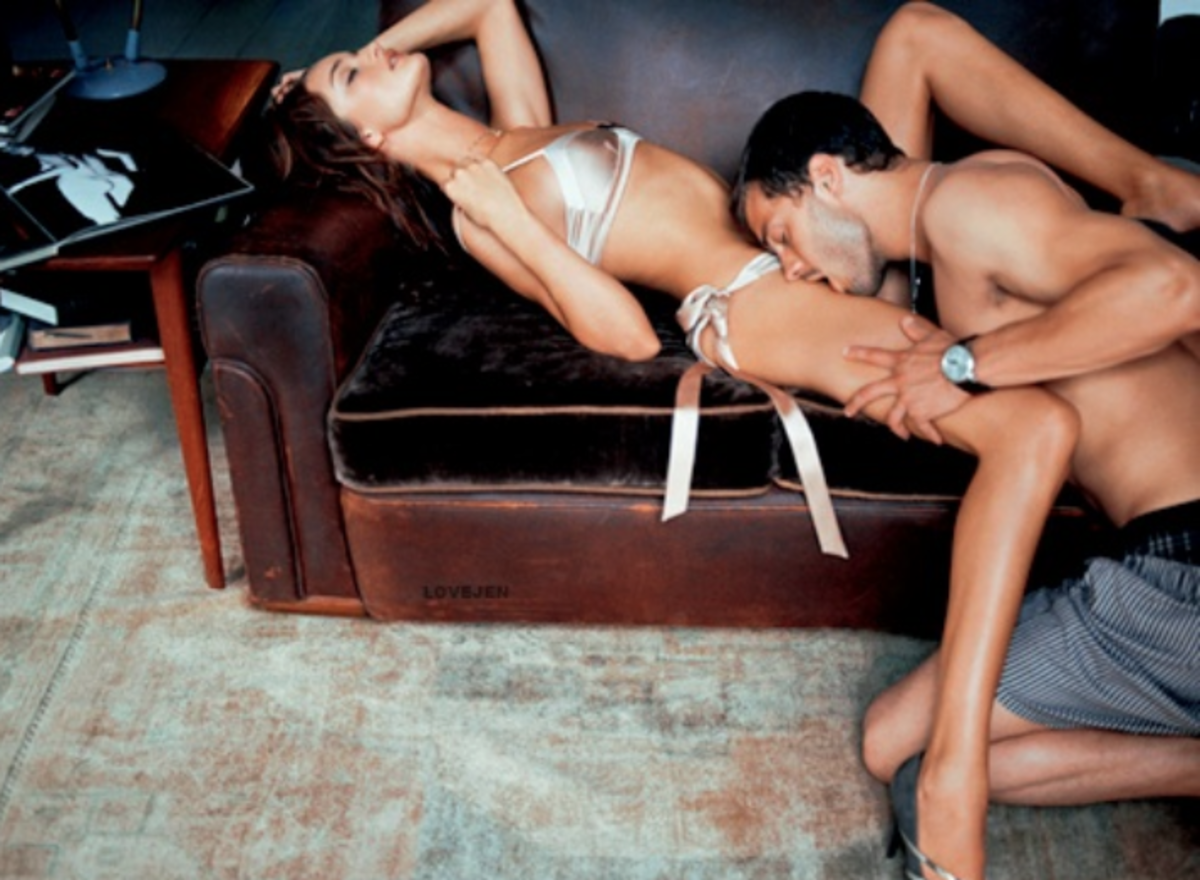 Rounded up some quotes (some of which were snagged form this piece) that will help any dude be better with women, whether they're just dating around, in a serious relationship, or committed through marriage. Read. Enjoy. Learn. Hope you dig 'em...
"Clear communication. Respect. A lot of laughter. And a lot of orgasms. That's what makes a marriage work."
– Dr Dre
"Mocking a woman is like drinking too much wine. It may be fun for a short time, but the hangover is hell."
– Brandon Sanderson
"If I were straight and I were trying to seduce a woman, I could do it just by standing up at the table when she came back from the bathroom. It works. Every time I do that, all the straight men are sitting at the table and their wives are kicking them. "Look at that!" "You never do that for me!""
– Tom Ford
"The best way to find out if you can trust somebody is to trust them."
– Ernest Hemingway
"Indifference and neglect often do much more damage than outright dislike."
– J.K. Rowling
"A guy and a girl can be just friends, but at one point or another, they will fall for each other...Maybe temporarily, maybe at the wrong time, maybe too late, or maybe forever"
– Dave Matthews
"You can talk with someone for years, everyday, and still, it won't mean as much as what you can have when you sit in front of someone, not saying a word, yet you feel that person with your heart, you feel like you have known the person for forever.... connections are made with the heart, not the tongue."
– C. JoyBell C
"Sometimes sex gets in the way of a relationship."
– Pamela Anderson
"Well, it seems to me that the best relationships - the ones that last - are frequently the ones that are rooted in friendship. You know, one day you look at the person and you see something more than you did the night before. Like a switch has been flicked somewhere. And the person who was just a friend is... suddenly the only person you can ever imagine yourself with."
– Gillian Anderson
"You don't develop courage by being happy in your relationships everyday. You develop it by surviving difficult times and challenging adversity."
– Epicurus
"I've liked different women at different times in my life. I've been attracted to white women. I've been attracted to black women. I've been attracted to Asian women. I've been attracted to various subspecies of women. I can say with gratitude that I've been able to experiment."
– Oliver Stone
"When you stop expecting people to be perfect, you can like them for who they are."
– Donald Miller
"Sex isn't the priority anymore, now I'm 65. But it still goes on. I want it and she doesn't, same as ever."
– Ozzy Osbourne
"It's no good pretending that any relationship has a future if your record collections disagree violently or if your favorite films wouldn't even speak to each other if they met at a party."
– Nick Hornby
"Marriage requires searing honesty at all costs. I learned that from my third wife."
– Alan Arkin
"Cheating and lying aren't struggles, they're reasons to break up."
– Patti Callahan Henry
"When I was in my twenties and just so sexually prolific, the first time I went to Machu Picchu, this guy, a spiritual teacher, says to me, "When you make love, you must be making love." I thought that was the greatest advice I had ever heard."
– Woody Harrelson
"The most painful thing is losing yourself in the process of loving someone too much, and forgetting that you are special too."
– Ernest Hemingway
"I like my relationships like I like my eggs. Over easy."
– Jarod Kintz,
"How can a woman be expected to be happy with a man who insists on treating her as if she were a perfectly normal human being."
– Oscar Wilde
"When you hold a grudge, you want someone else's sorrow to reflect your level of hurt but the two rarely meet."
– Steve Maraboli
"The notion of children makes me ill. The thought of having one... when you see those guys in the supermarket, wheeling the trolley around while their brats whine and wheedle and some blundering sow questions every little thing they take off the shelves. I mean, just the fucking idea of it, the very word: family. Whenever I see it, on travel brochures, on house schedules... I feel sick."
– John Niven
"Assumptions are the termites of relationships."
– Henry Winkler
"A fit, healthy body—that is the best fashion statement"
– Jess C. Scott
"You like a woman, she's got kids, it's a package. You can't just go in one-sided."
– Ice Cube
"Find joy in everything you choose to do. Every job, relationship, home... it's your responsibility to love it, or change it."
– Chuck Palahniuk
"I'm willing to die for the woman I love. I just want to take 75 years to do it."
– Jarod Kintz
"Falling in love and having a relationship are two different things."
– Keanu Reeves
"There is greatness in doing something you hate for the sake of someone you love."
– Shmuley Boteach
"I hate if a man says anything laddy. 'You're sexy' or whatever. I just want someone to be friendly and a little bit flirty."
– Kimberley Garner
"'What's the difference between sex and love?' Hmm. That's a good question. Hey, you interviewed Al Pacino. How'd he answer that?'"
– Robert DeNiro
"Trust is the glue of life. It's the most essential ingredient in effective communication. It's the foundational principle that holds all relationships."
– Stephen R. Covey
"When you really don't like a guy, they're all over you, and as soon as you act like you like them, they're no longer interested."
– Beyonce
"When it's over for a woman, it's over. You're not getting an appeal."
– Jack Nicholson
"Women? I'm still working on the subject. I haven't finished my studies. I would say I'm so happy that they're around. This is the salt and pepper of life. This is what makes me wake up in the morning — even more than work, really."
– Vincent Cassel
"It's not your job to like me - it's mine"
– Byron Katie
"The highest prize in a world of men is the most beautiful woman available on your arm and living there in her heart loyal to you."
– Norman Mailer
"You can't learn something about all women. Sometimes I feel that the older I get, the less of a grip I've got on it."
– Jamie Hince
"When you meet women, don't pretend to be anything that you're not."
– Ralph Fiennes
"I hate men who are in touch with their feminine side. They're a bunch of fucking wimps. And women don't really like them either."
– David Bailey
"The most important relationship in your life is the relationship you have with yourself. Because no matter what happens, you will always be with yourself."
– Diane Von Furstenberg
"When you say "I" and "my" too much, you lose the capacity to understand the "we" and "our"."
– Steve Maraboli
"Over time, any deception destroys intimacy, and without intimacy couples cannot have true and lasting love."
– Bonnie Eaker Weil
"Fucking in the pool is actually kind of nice."
– Debbie Harry
Lead photo via GQ.